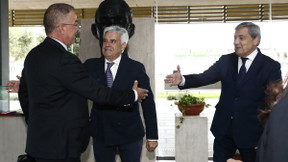 The applications for the organization of the 2030 World Cup are becoming clearer. With in particular a file which is gaining momentum, that of Morocco, Spain and Portugal. Faced with Saudi Arabia, competition is becoming more and more organized.
The race is on to win the 2030 Football World Cup. If the 2026 edition has been entrusted to North America and the three countries of the United States, Canada and Mexico, we do not yet know who will have the honors of organizing the 2030 opus. The decision must be delivered in 2024 on the occasion of the 74th FIFA Congress. And on the starting line, several files come out of bed. That of Saudi Arabia remains the most publicized given the powerful investment strategy of recent months. Mohammed ben Salman, Crown Prince of the country, dreams of winning the Holy Grail of a World Cup on his land, in addition to the 2036 Olympic Games, also in his sights. But Saudi Arabia has increasingly intense competition. In particular on the tripartite candidacy of Morocco, Spain and Portugal.
Morocco is gaining depth
The presidents of the Federations of Morocco, Spain and Portugal recently met to refine their common strategy. A working meeting in which Morocco was able to do well to become a major player in the issue. After having led five applications, Morocco has solid experience to convince FIFA and is already offering important arguments, such as the presence of 6 stadiums approved for the competition. For its part, Spain confirmed its desire to put this candidacy at the center of its priorities. The next few months should be decisive but the originality of the Morocco, Spain, Portugal file works in its favor. It could, in fact, be the first World Cup organized on two different continents (Europe and Africa).