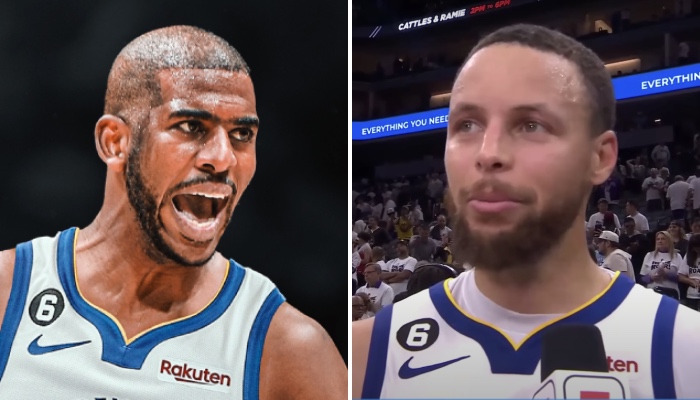 Basketball Forever (DR) / ESPN (DR)
With Chris Paul, the Warriors have a new major offensive weapon. If we do not yet know what role the Point God will have within the squad, we can however suspect that it will have a positive impact in many situations. A young talent could also explode thanks to him…
Since Chris Paul arrived at the Warriors, questions have arisen regarding his adaptation. Point God indeed arrives in a group which knows each other perfectly and which already has its habits. Draymond Green also admitted to having hated him for many years so in terms of reception, he could perhaps have hoped for better. Above all, its role is not yet determined.
The status of the point guard in Golden State has not yet been really announced by Steve Kerr. Seeing him start matches on the bench is a clearly conceivable possibility and the Warriors coach was recently rather mysterious on this subject. Whether he is in the starting five or not, we suspect that the contribution of the former Clippers will be clearly visible in the locker room…
A Warriors talent ready to take off with CP3?
Having Chris Paul on your team is not just about having an excellent basketball player. In addition to that, CP3 will bring all his experience to the young players in the group and will really be able to take them under his wing. Among these talents just waiting to blossom, Jonathan Kuminga is at the top of the list and Steve Kerr recently appeared at a press conference to talk about his case:
@
I'm excited for Jonathan Kuminga. He had a very good summer. I received regular reports when I was abroad and the coaches were full of praise for him. They said he worked really hard and understood everything that could be expected of him. I think it will be very beneficial for him to play with Chris Paul.
Chris has a knack for making the game easier for his teammates. I expect them to spend time together on or even off the field and for Chris to help him unlock some of his potential. Otherwise, you know, JK, he's in his third year, he's improving and he's working hard, and he's on track to get where he needs to be, so I'm honestly excited.
While there aren't really many big men on Golden State's side, Kuminga could clearly have a card to play next season. His potential is in any case obvious and he only needs to have playing time to be able to continue to progress. In the long term, he will perhaps become the favorite playing partner of the former Clipper and will benefit from the caviars of which only he has the secret…
If Chris Paul still does not know what role he will have with the Warriors next year, he can already start taking some nuggets under his wing. Jonathan Kuminga needs a mentor and the Point God could clearly be a quality one to launch his progress…