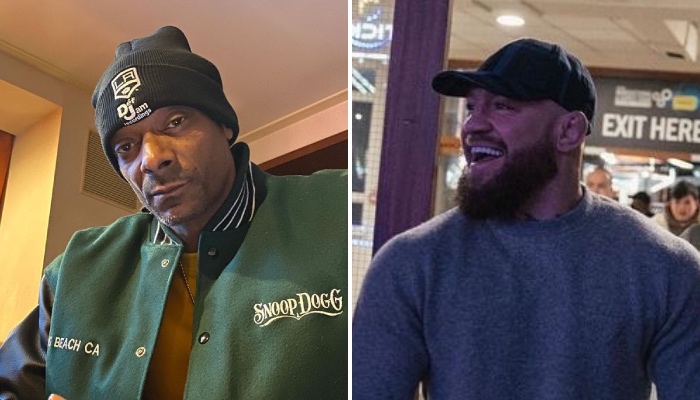 @snoopdogg / @thenotoriousmma
Conor McGregor is a superstar, and he likes to hang out with other superstars. So obviously, when Snoop Dogg packed his bags in Dublin for an exceptional concert, the Notorious had to accompany him until the end of the night, and they didn't do things by halves.
Is there a fighter on this planet who enjoys his wealth more than Conor McGregor? While he has not yet retired and is supposed to return to the octagon in the coming months, the Notorious does not really have the lifestyle of a man determined to shine in his sport . He goes on drinks and parties like no other, which is not necessarily reassuring for his many fans.
In his defense, he's perhaps the most famous person in Dublin, so he's bound to welcome the superstars to the city. For example, Snoop Dogg has just given an event concert in Ireland, and the Notorious could not miss this special event. He announced the color on social networks, he was not going there to party half-heartedly.
Conor McGregor and Snoop Dogg's crazy evening
On my way to see Snoop Dogg, I'll be careful
He may say in the caption that he would be careful during the evening, but appearing shirtless with a joint in his mouth while driving his car means the opposite. And indeed, he didn't pull any punches since he chained glasses of his whisky, joints and photos with scantily clad dancers, all in front of his wife Dee Devlin, present on site and visibly pregnant . From the great Conor McGregor!
Conor McGregor hanging out with Snoop Dogg at his concert in Dublin earlier this week ???? pic.twitter.com/I6LbWmuCUB

— MMA Orbit (@mma_orbit) September 28, 2023
If there is good news to be found in this evening of debauchery, it is that the former double UFC champion seems to be back in normal or even optimal form. He's not as built as he once was and he finally looks like an MMA fighter. It remains to be seen whether he will put his physique to good use in the cage soon.
Conor McGregor and Snoop Dogg will no doubt remember this evening spent in Dublin after the artist's concert for a long time. The two legends undoubtedly had things to say and products to exchange.