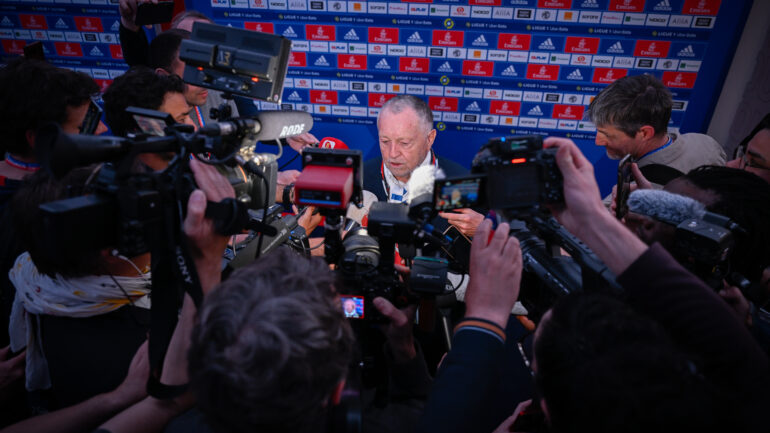 Jean-Michel Aulas surrounded by the press for his last match with OL (credit: Damien LG / OL)
President of OL for 36 years, Jean-Michel Aulas knew it all until his forced departure last May. Since then, he claims to have been asked, but will no longer manage another club.
Before even embarking on the media battle of the last few weeks with John WeaverJean Michel Classes had taken the lead in accepting an interview with beIN Sports in June. The meeting was only broadcast on Wednesday, but the former president of theOL already expressed his remorse for having sold the club to Weaver. The scar of his ouster was still fresh and it is logical that a desire to backpedal haunted and still haunts the thoughts of a man who spent 36 years of his life at the head of the Lyon club. From now on simple honorary president, Jean-Michel Classes was pushed out by the new management due in particular to differences.
Now launched into the development of women's football
On the sidelines now, the French businessman has not finished with football since the mission of developing women's football in France has been entrusted to him and the presidency of the future women's professional league should fall to him. But as far as men's football is concerned, this is now ancient history despite some requests since it was withdrawn from OL. "I was very surprised that I was approached so quickly after my departure from OL, he admitted on beIN Sports. Maybe it's because I had funds to invest. But whatever happens, it is out of the question for me to manage any other club than Olympique Lyonnais." Despite the areas of turbulence, Aulas assures him : "my heart is at the OL institution".