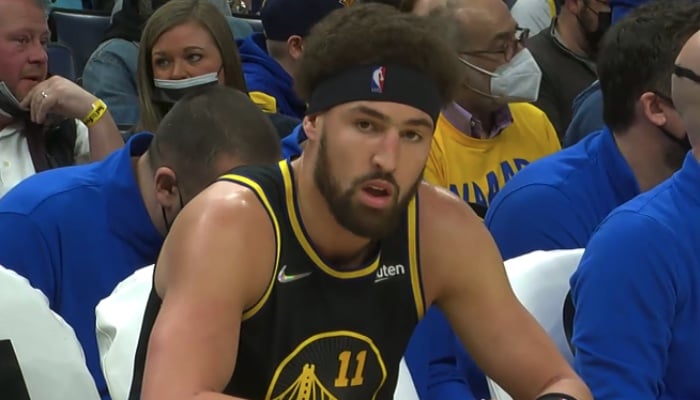 Last season was a bit complicated for Klay Thomson, with the fullback blowing hot and cold for his first full exercise since 2018-19. However, he will find himself on the free agent market in a year if he does not receive a contract extension from Golden State… and for the moment, that is anything but guaranteed.
It's a real reconquest mission that is coming for the Warriors. Having lost their championship crown to the Nuggets, Stephen Curry & co. will have no choice but to come back in force to show that they can still sit on the throne. However, everyone will have to be in tune and that is why we will particularly scrutinize the performances of Klay Thompson.
On paper, it didn't seem too bad last year with more than 21 points and 4 rebounds per game, all at more than 41% success behind the arc. Stats as we are used to with the rear, but it is visually that it worries the most. Logically less mobile than before his long absence, he hardly defends anymore and tends to disappear at the worst moment. Not ideal when he will have to risk his future…
Negotiations stalled between Klay Thompson and the Warriors
Indeed, Killa Klay's contract will expire at the end of the 2023-24 season, he who will receive more than 43 million dollars this year. It seems unlikely the Dubs will offer him that much money again… but the main question remains whether they'll keep him at all. Franchise Insider for The AthleticAnthony Slater carried out his investigation and revealed that nothing is guaranteed…
Thompson's contract negotiations are even more complex. Here's where things stand: No official offer or counteroffer has been made by either party, according to league sources. No exact salary amount was given. Both sides are in no rush and there is no deadline.
In theory, the deal could be completed mid-season, but I expect serious discussions (and perhaps an agreement for a new contract) to take place before then.
A priori, we are therefore still at a standstill between the two parties concerned. Of course, nothing prevents them from managing to find common ground during the exercise, as the journalist explains.
However, we must not forget that KT has been involved in departure rumors for many months now. The departure of Jordan Poole, who could have succeeded him at position 2, may have put a temporary end to all that, but the serious injuries he has suffered in recent years have clearly had an impact on his game. GS could so end up parting with it anyway, if the compensation is satisfactory.
Like Draymond Green who waited this summer before signing an extension, Klay Thompson risks following the same path as his colleague at the Warriors. Which obviously means having to deal with a constant stream of rumors… Not ideal for concentrating on the field.