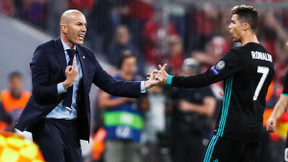 If he appears to be a rather calm man at first glance, Zinédine Zidane is also capable of violent outbursts. What happened at half-time of the Champions League semi-final second leg against Bayern Munich in 2018. Borja Mayoral told an anecdote about his former coach, who impressed Cristiano Ronaldo, Karim Benzema, Sergio Ramos et al.
With 14 Champions Leagues to his credit, the Real Madrid is undoubtedly the club to have won the Big Ears Cup the most times. Between 2016 and 2018 under the orders of Zinedine Zidanethe White House even won the C1 three consecutive seasons. But during the 2017-2018 edition, the Real Madrid was still scared in the semi-final against the Bayern Munich.
PSG: Transfer announced for Mbappé, Real Madrid reacts https://t.co/UX7qTrx2Wy pic.twitter.com/O6QL3nQjJt

— le10sport (@le10sport) September 19, 2023
"I had never experienced that"
After winning 1-2 in the first leg, the Real Madrid was manhandled during the first half of the second leg at the Santiago Bernabeu. Joshua Kimmich had quickly opened the score, before Karim Benzema equalizes a few minutes later. THE Merengue were able to count on a large Keylor Navas to maintain this score at the break. Feeling this semi-final slipping away from his team, Zinedine Zidane then let out a rant at half-time, which impressed his locker room.
"Cristiano, Ramos, Varane, Benzema, all were impressed"
« We played very badly. Zidane entered the locker room. I had never experienced that. We all fell silent and Zidane shouted: "Everyone get out of here, except the players." He threw everyone out: the physiotherapists, the assistants, everyone. He started shouting that we were at the Bernabéu, that we were playing a Champions League final, the Real Madrid crest. I remember this speech. It was brutal. It touched all the players and Cristiano, Ramos, Varane, Benzema, all were impressed. We had never seen Zidane like that, it came from within, he rarely got angry ", told Borja Mayoralin an interview given to Offsiders.