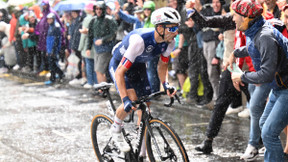 Julian Alaphilippe has been fighting hard for several weeks to return to the top world level. His time in Quebec was very interesting. The moment of truth will come at the Tour of Lombardy. She will do so all the more as the race promises to be a real battle of leaders. For Alaphilippe, the test looks terrible. One thing is certain, the truth will come out.
Since several weeks, Julian Alaphilippe is working hard to achieve an excellent end to the season, in the hope of regaining the rhythm of the top level, which would allow it to launch its preparation for 2024 in the best possible way, with the ambition of achieving a year at the level of its best, as in 2019 or 2020. After a convincing campaign in Quebec, where he found himself at the gates of the fight for victory (9th at the Quebec Grand-Prix, 12th at the Montreal Grand-Prix), Alaphilippe is particularly targeting the Tour of Lombardy, with the ambition of being at the level of winning.
Cycling: Evenepoel-Alaphilippe, the appointment is made… https://t.co/k94TWhlFiZ pic.twitter.com/LDUwMeNUpG

— le10sport (@le10sport) September 19, 2023
After Evenepoel and Pogacar, Roglic also at the start in Lombardy!
And if he wanted to find a high-level context in Lombardy, Julian Alaphilippe will be served. The race will truly be a life-size test! Indeed, in addition to his teammate and leader Remco Evenepoelwho announced that he was participating in the event, Tadej Pogacar also indicated that he would start to win. In comments relayed by cyclingnews.comthe Slovenian champion declared: " I've had a good break since the world championships. I think it was necessary and I feel quite fresh and ready to attack this final period in Italy. It's one of my favorite moments of the season, and there's always a great atmosphere in the build-up to Lombardy. ».
Alaphilippe will find out if he has found the rhythm of the top level
In recent hours, the participation of another tenor of the world peloton has been announced. Indeed, according to the Slovenian media, Primoz Roglic, just out of the Tour of Spain, will also be on the entry list in Lombardy, also with the intention of raising his arms, riding on his great condition from the Vuelta. And if we add to that a Thibaut Pinot overmotivated for the last race of his career, the one he dreams of winning a second time and which he has been preparing for more than a month and a half, this heralds a terrible fight around Lake Como. If he really finds himself in the fight for victory in the last kilometers, Julian Alaphilippe can then truly say that he has regained a world level.