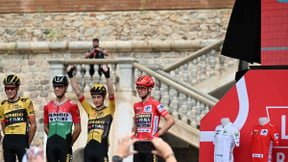 Jérôme Pineau, the former rider and boss of the B'B Hôtels team, who closed his business at the end of last season, openly expressed his suspicions of mechanical doping within the Jumbo-Visma on the airwaves of RMC, causing a clash with the Dutch group. During his column on cyclismactu.net, Cyrille Guimard, the former sporting director of Bernard Hinault and former boss of the French teams, reacted to the controversy.
Since Sunday, the controversy has been growing following the suspicions unequivocally expressed by the former team boss B'B Hôtels, Jerome Pineauon the airwaves of RMC around mechanical doping within the team Jumbo Visma. Pineau had notably declared: " We see images… I'm not talking about doping but worse than that. Mechanical ? Yes, mechanical. The acceleration of Sepp Kuss in the Tourmalet two days ago, at 10km/h faster than the group in front of him where there were nuggets like Juan Ayuso… Kuss arrives 10km/h faster. There is a spectator who takes a step forward, he brakes and leaves 10km/h faster. In the Tourmalet. How do we explain this? How can you explain this to me? I'm scared, it worries me greatly. I see things… I don't know how we do it and I wonder. I was in this environment not long ago and the discussions around the buses were not about what they were doing during their internship. And it wasn't just the small teams that were complaining ».
Cycling: Alaphilippe-Evenepoel, the consequences of the Vuelta https://t.co/HXitQt1jhb pic.twitter.com/Wec3rBslRo

— le10sport (@le10sport) September 12, 2023
Jumbo evokes the end of B'B Hôtels in response
In the process, the Dutch team reacted, via a text message sent by the main sports director Mary Zeeman to the site globalcyclingnetwork.comclearly referring to the team's chaotic end B'B Hôtels : « Comments from a manager who signed several riders and staff members, then it turned out in October that he was fooling everyone and putting all those people in a bad position? Can this person talk about others? ».
"That leaves me a little perplexed"
Requested for his column on cyclismactu.net, Cyrille Guimardthe former sports director of Bernard Hinault, Laurent Fignon et Greg Lemondand coach of the French teams before arriving at the post of Thomas Voecklerwas quick to deliver his reaction: " It leaves me a little perplexed, I don't have the feeling of having seen the same things. I think that Jérôme Pineau needs to get back into the news and that what he was able to say on RMC still remains with question marks. There is no evidence, absolutely nothing. This is the big problem with cycling, we are capable of saying everything… Jérôme says what he wants, but it would be good if he came with proof, since once again, we are casting shame on cycling without anything specific. (…) It's his opinion, it's what he thinks, it's what he thinks he saw… One thing is certain: it allowed him to return to the news. I have a lot of contact at the professional level and I have absolutely not heard of this. Honestly, I don't validate the comments. Since his appearance on RMC, I have heard from runners and former runners who are more than annoyed. »