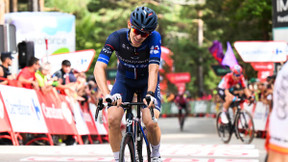 While he was off to achieve once again a prestigious stage victory on Tuesday at the top of Bejès, at the end of a huge battle to make the right move, Romain Grégoire, who asserts himself as the future successor of Julian Alaphilippe experienced a cruel disappointment. Explanation.
Romain Grégoirethe other nugget of the Groupama-FDJ with Lenny Martinezalso aged 20 and in the midst of discovering his first Grand Tour, hoped to play for stage victory on Tuesday, with a finish at the top of five kilometers, totally in the register of this puncher called to the greatest victories.
Cycling: Alaphilippe-Evenepoel, the consequences of the Vuelta https://t.co/HXitQt1jhb pic.twitter.com/Wec3rBslRo

— le10sport (@le10sport) September 12, 2023
He was off to play for an XXL victory…
Romain Grégoire indeed looks like the future Julian Alaphilippehe who won tough races like the Quatre Jours de Dunkerque or the Tour du Poitou-Charentes for his first year at World Tour level, after having raised his arms last year in Liège-Bastogne-Liège Espoirs, while he was only 19 years old… Although he had come close to winning a stage during the 11th stage, at the top of the Laguna Negra, finishing 2nd behind Jesus Herrada, the great hope of French cycling was therefore hoping for a revenge during the stage arriving in Bejès. Unfortunately, while he had taken the breakaway from strong men after a terrible fight, which once again says a lot about his exceptional abilities, he was not really able to play his chances, the Ineos team ensuring a huge chase to get back on the breakaway.
"I said to myself: 'They're going to stop at some point!'"
After the race, Romain Grégoire did not hide his disappointment in comments reported by cyclismactu.net : « I felt it could go quickly, ten of us went out, with some nice people and I thought it was going to do it. But behind, Ineos was not represented and therefore rolled. The gap remained at thirty seconds for a moment, it rose to forty-five and I said to myself: 'they're going to stop at some point'. But no… I was still a little disgusted because it was a good move. I haven't done a lot of World Tour races, but on TV, I rarely saw groups of ten being caught. Too bad. I felt good today so I figured it was worth following through on the last bump to have a real full day. ". Despite all the efforts made, Gregory arrived 17th in the stage, just a few seconds behind the group of tenors, a further confirmation of his very high level natural ability!