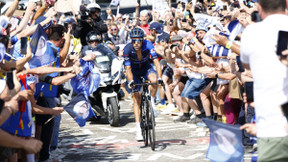 Thibaut Pinot has been working for several weeks to get back on top for the end-of-season Italian classics, and in particular the Tour of Lombardy. Overmotivated for the last races of his career, is the French champion able to achieve the feat in Lombardy? Analysis.
After a Tour de France where he came close to the feat on his Vosges lands, Thibaut Pinot enters the final straight of his career, with his last major objective at the forefront, the Tour of Lombardy, which he won in 2018, ahead of Vincenzo Nibali, then at the top of his form. The leader of the Groupama-FDJ did not hide that it was the greatest memory of his career, in comments reported by cyclismactu.net : « My best memory will remain my victory in Lombardy. I think it's my greatest victory, it's my Monument, it's also Jérémy Roy's last race and I also won it for him, it's the evening of the holidays too. There are a lot of symbols on this Tour of Lombardy. It's really my greatest victory, the most constructed victory, the one where I assume my status as leader, the status of favorite. What always made me proud of this victory is having beaten Vincenzo Nibali at home, that's what made the victory more beautiful ».
Cycling: Evenepoel-Alaphilippe, the appointment is made… https://t.co/k94TWhlFiZ pic.twitter.com/LDUwMeNUpG

— le10sport (@le10sport) September 19, 2023
"I worked in August and September to be well"
Logically, at the time of closing his story as a professional cyclist, Thibaut Pinot dreams of doing well on the roads around Lake Como. Proof of his motivation, the French climber has not given up on his preparation even though he could be tempted to end his career freewheeling: " I worked in August and September to be good at the races I prefer, this Italian period. I'm going to try to be good even if my fall in Poitou-Charentes put me in a bit of trouble so it's going to be a little harder than expected. But I want to enjoy this Tour of Lombardy, I know that there will be a lot of people, it will put a little pressure on me too because I will be a little in the center of attention and that won't is not what I like the most. So I hope that I will still enjoy my race and that what happens around it will be more after the race, so that I can be a little calm at the start ».
He proved that at the top of his form and motivation, he could play for the win
From there, a question naturally arises: Thibaut Pinot Is he capable of achieving a feat by seeking victory in his last professional race? Even though its room for maneuver is reduced, particularly due to the presence of a client like Remco Evenepoel, that he will not be able to dominate the pedal, Pinot seems able to accomplish the feat. His motivation is at its maximum, and we know to what extent he is capable of fighting with the best when he is at the top of his condition and his desire. If he has a big day in Lombardy, he should be able to battle with the big names in the peloton. And Pinot has already shown in the past that he can emerge victorious from this type of fight. Under these conditions, his name logically fits into the list of potential winners in Lombardy. It will be even more so if Pinot he himself convinces himself that he can win.