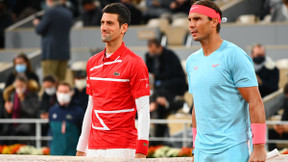 Sunday at Bercy, Novak Djokovic performed again, winning without trembling against Grigor Dimitrov (6-4, 6-3). The Serbian won the 97th trophy of his career in Paris, his 40th Masters 1000, enough to allow him to make history a little more and widen the gap on Rafael Nadal and Roger Federer. In any case, this is the opinion of Guido Monaco.
New demonstration for Novak Djokovic. Grigor Dimitrov had no chance against the Serb in the final of the Rolex Paris Masters losing in two sets (6-4, 6-3). The Bulgarian continues his black streak against the world number 1 who, for his part, is getting closer to 109 titles Jimmy Connors by totaling 97 tournament successes. In the eyes of some observers, Novak Djokovic widens the gap in the debate of the GOAT (greatest of all time) against Rafael Nadal et Roger Federer. This is the case of Guido Monacobelieving that the Serb wants to hit even harder.
Tennis: Djokovic hated, he empties his bag https://t.co/vRiPKVTr14 pic.twitter.com/dvYAn3kl0R

— le10sport (@le10sport) November 7, 2023
"He has a different story"
« I don't wonder why at some point Federer became something religious, almost untouchable, and why Djokovic can be a little hated. I complain about the spikes, both positive upwards and this exaggerated hatred towards Djokovic. He has this thing in him of always having to prove more than the others, because he arrived later and the others were already idols. He has a different story, he comes from a different place in the world. You must always put yourself in other people's shoes. », confides the former player who became a consultant in comments given to OA Sport.
"Convince even the most reluctant admirers of Federer and Nadal that he is the strongest"
« He has the ability to find motivation in so many things and, although he has completed his comeback by overtaking his rivals, he wants to put even more space between himself and them to convince even the most reluctant admirers of Federer and of Nadal that he is the strongest. Some will never admit it and may not agree with everyone, but in my opinion there is no longer any doubt that in sporting terms Djokovic is the strongest of all time», he continues, relayed byWe Love Tennis.