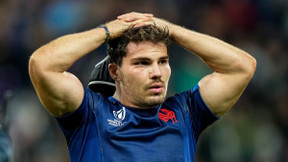 As announced by the FFR on Wednesday, Antoine Dupont will join the France rugby sevens group in preparation for the Paris 2024 Olympic Games. To become eligible, the captain of the French XV therefore risks skipping the VI Nations Tournament . Virimi Vakatawa has no doubts about his adaptation to his new discipline.
To forget the disillusionment of world Cup, Antoine Dupont focus on the JO 2024. Barring disaster, the scrum half will participate in the rugby 7s event. To do this, he will have to take part in at least two events on the circuit and that falls right during the VI Nations Tournament. To best prepare for your Olympic dream, Dupont should therefore let go XV of France this winter. Virimi Wakatawa do not doubt his success.
Antoine Dupont at 7: His friends find it courageous! https://t.co/83KFskptvC pic.twitter.com/f9xaf12z02

— le10sport (@le10sport) November 17, 2023
"Single-handedly, he can make the French team win"
Before integrating the XV de France, Virimi Vakatawa was a sensational rugby sevens player. He knows what he's talking about and he doesn't see how Antoine Dupont would fail in its reconversion. " It's good that Antoine is interested in rugby sevens because I think we can have a better French team than the Fiji team. We have very talented players in France. Although I have to admit that those who are there now are already very strong compared to when I was playing. Adding Antoine and maybe two or three more fifteen players is very good. Single-handedly, he can make the French team win ", declared the former player of the Racing 92 au Olympic Middaybefore continuing.
"He is not the best player in the world for nothing"
« I have no doubts about Antoine. It's not the fact that he's never played VII that will mean he'll be in trouble. He's not the best player in the world for nothing. He is capable of doing incredible things. I need to send him a message to ask him what he can't do. ", added Virimi Wakatawa. Antoine Dupont will appreciate.