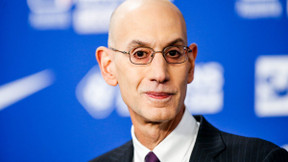 This Tuesday, Kevin Porter Jr was arrested by American police for hitting his partner and WNBA player Kysre Gondrezick. The facts with which the Houston Rockets player is accused are quite clear in view of the bruises and marks left on the woman's skin. But more and more details are shared as the hours go by and the least we can say is that the leader risks very big: prison and a premature end to his NBA career.
Sometimes turbulent on the side of Cavaliers, Kevin Porter Jr finished at Rockets where he seemed to regain some control of his life. Until the drama at the start of this week… The images have already gone around the web, while the media are starting to share the details of the case. We learn, for example, that the 23-year-old player's girlfriend, Kysre Gondrezickwas sleeping when Porter Jr seems to have broken down mentally, before attacking her. Multiple blows were suffered, to the point that she suffered a broken neck.
The NBA wants to adopt stricter rules for its stars, who is affected? https://t.co/NKHMHsnv91 pic.twitter.com/rUxfUl1dTx

— le10sport (@le10sport) September 12, 2023
Porter Jr soon in prison?
Cervicals and vertebrae affected, " Kevin Porter Jr allegedly punched Kysre Gondrezick multiple times in the face with a closed fist, cutting her above the right eye causing bruising and significant pain. He also squeezed her neck forcefully, causing difficulty breathing. » reports the media AP News. Adrian Wojnarowski confirmed for his part that the quarry NBA of the player is greatly threatened if the facts are proven. Never Adam Silver will not authorize his return, not to mention the fact that Porter Jr risks a long stay in prison if all this is confirmed by the authorities.
"Don't show up at home"
The more the hours pass, the more the end of the career Porter Jr is considered. A lesser evil for the family of the young woman who does not intend to stop there. Indeed, Kalabrya Gondrezick-Haskinssister of Kysreclearly threatened KPJ on Instagram: " If you think you can touch my sister without getting touched. Your days are numbered. You better pray and hope that you can walk again, let alone dribble. You may have gotten away with it in the past because your mom didn't want to hit you, but we know how to spank little sluts like you every day. Don't show up at the house, you little bitch. » said the widow of Dwayne Haskinsquarterback des Pittsburgh Steelers died in 2022 after being hit by a truck.