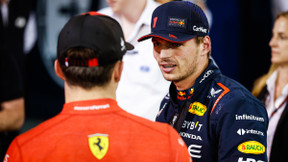 This Saturday of qualifying was very tough for Max Verstappen. Strained by the exceptional performances of the Ferraris of Carlos Sainz and Charles Leclerc, the Dutchman completely foundered. Eliminated in Q2, the Red Bull driver is in great danger before hitting the streets of Singapore, on a circuit that has never been successful for him.
The crazy series of Max Verstappen is threatened. In great difficulty on the track Marina Bay on which he has never triumphed, the double reigning world champion is in danger. His crazy streak of 10 consecutive victories is all the more threatened as he showed no sign of satisfaction after the qualifying session where he showed nothing. The myth is about to fall.
F1: Leclerc releases a big announcement about his future! https://t.co/3YlWlzBGpU pic.twitter.com/GiVupcoiJC

— le10sport (@le10sport) September 16, 2023
Verstappen alone against the Ferraris
The supremacy of Max Verstappen is put in danger. Literally unbeatable since 10 Grand Prix, the Dutchman has never been so close to conceding a defeat. Eliminated in Q2, the double world champion is greatly threatened. On a circuit that he hardly appreciates and on which he has never triumphed, Verstappen will start from eleventh position Singapore. An anomaly for him. " The qualification was very bad. The third free practice session was a little better, we made a few changes afterwards. And I think we went too far, I couldn't brake, I was bouncing a lot and obviously performance on an urban track is very important. I couldn't attack any corner, if I wanted to brake late, I would lock my wheels. It was just terrible, very bad. You can't really overtake here. We have no advantage in pace ", underlined the Dutchman after qualifying. He is condemned to the exploit in the face of Ferrari very fast this weekend.
The grid in Singapore
1- Carlos Sainz (Ferrari)
2- George Russell (Mercedes)
3- Charles Leclerc (Ferrari)
4- Lando Norris (McLaren)
5- Lewis Hamilton (Mercedes)
6- Kevin Magnussen (Haas)
7- Fernando Alonso (Aston Martin)
8- Esteban Ocon (Alpine)
9- Nico Hülkenberg (Haas)
10- Liam Lawson (AlphaTauri)
11- Max Verstappen (Red Bull)
12- Pierre Gasly (Alpine)
13- Sergio Perez (Red Bull)
14- Alex Albon (Williams)
15- Yuki Tsunoda (AlphaTauri)
16- Valtteri Bottas (Alfa Romeo)
17- Oscar Piastri (McLaren)
18- Logan Sargeant (Williams)
19- Guanyu Zhou (Alfa Romeo)
20- Lance Stroll (Aston Martin)