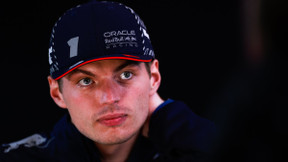 While Formula 1 is setting up there for the first time this weekend, Max Verstappen is not a big fan of Las Vegas. After having tackled the opening ceremony, feeling like a clown, the Red Bull driver this time tackled the circuit itself, which he does not find "fun".
« I don't like everything around it. I'm looking forward to trying to do my best on the track, but I'm not looking forward to doing that. For me, you can avoid this stuff. It's just that standing up there you look like a clown. » If he did not appreciate the opening ceremony of the Las Vegas Grand Prix, Max Verstappen is also not convinced by his circuit.
F1: Controversy in Las Vegas, Mercedes calms everyone https://t.co/zAuRD4Abk3 pic.twitter.com/IwBZIG2xe5

— le10sport (@le10sport) November 17, 2023
"It's not fun and I was right"
« If I had fun? No, I've had better circuits in my life. I already said this yesterday and there's nothing new that I discovered or anything. It's not fun and I was right. But we're going to keep going and get the job done ", said Max Verstappen after the first two free practice sessions, in comments relayed by Nextgen-Auto. « It is slippery. Of course, we didn't really ride much in Free 1, so it took a little while to ride as much as we wanted. In the end it was a little better. We managed to complete the entire program, which I guess was the most important for today. »
"For us, the results are mixed"
If the Ferrari took the first two places in EL2, Max Verstappen finished sixth and Sergio Perez fourth: " It's a difficult circuit. I'm really sorry for the fans, and it's a shame that this happened, but I'm sure we'll be able to have a great race and a great weekend. It's a tricky circuit, the grip is very weak and it's a challenge. For us, the results are mixed. We are making progress, which I think is very important. We'll see tomorrow, Ferrari looks very strong, not only in terms of pace, but also when you look at their onboard cameras they seem to have found something ", added Max Verstappen.