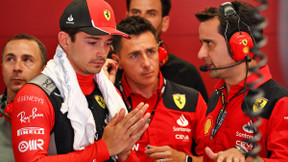 Leader of the Ferrari team for several seasons, Charles Leclerc is in a bad position this year. The reason ? The sparkling form of Carlos Sainz who continues to pile up excellent results, including a victory in Singapore. everything suggests that we are witnessing a radical change in hierarchy in the ranks of the Scuderia.
Charles Leclerc has been disappointing since the start of the season. Although he does not have the best car on the field, the Monegasque is not as sharp as at the start of last year. He misses the point and it benefits his teammate Carlos Sainz. The Spaniard has been shining for several weeks, especially since returning from the summer break. It was he who ended the streak of ten consecutive victories of Max Verstappen has Singapore. Sainz feels better than his teammate and he begins to take an important place in the garage Ferrari.
F1: It's the end for Max Verstappen! https://t.co/wyFbAjjB1f pic.twitter.com/B8wWoYI0yv

— le10sport (@le10sport) September 28, 2023
Leclerc: "I'm having a little more trouble with the car"
Carlos Sainz took advantage of the summer break to get ahead of Charles Leclerc. Indeed, he admits to having spent a lot of time discussing with his engineers. " What happens is that during summer vacation you always have a little more time to relax, to meet with engineers and look at things that worked, things that didn't work. That's why these last races were probably a step forward and now the goal is to continue until the end of the season and hopefully next year with a more competitive car ", declared the Spaniard in comments relayed by Nextgen-Auto. For his part, Charles Leclerc has less good sensations with his car. " I'm having a little more trouble with the car, since returning from vacation in fact. Quite a bit of understeer, but the behavior is also quite lively. It was very difficult to predict what the car was going to do on the track, for which I then paid the price with less confidence inside the car », concedes the Monegasque. Frederic Vasseur also noticed that Carlos Sainz had changed some things for some time.
Vasseur discusses Sainz's approach
The Frenchman finds that his pilot has changed his approach. " It's the mental preparation for the weekend, but the main difference is that it's there from the first lap, from the first practice session. This helps a lot. But we're talking about little details in the approach », admits the director of the Italian team. At six Grand Prix of the end, Carlos Sainz is 15 points ahead of Charles Leclerc at the world championship. He also entered the hearts of Fans by signing the pole at Monza and by winning this famous victory at Singapore. Charles Leclerc must react and quickly, although his seat is not immediately threatened. But if it continues like this, Ferrari could play the card Sainz next year. To be continued…