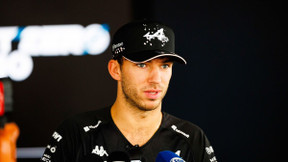 This Sunday the Japanese Grand Prix took place. At the wheel of his Alpine, Pierre Gasly finished in 10th place. The fact is that the Frenchman had to respond to his team's order to let Esteban Ocon pass before the finish line. Gasly could therefore have finished 9th but given Alpine's instructions, he fell one place. And obviously, after crossing the finish line, the 27-year-old driver was not very happy.
Au Dress, Max Verstappen offered himself a new victory. The Dutchman won at the wheel of his Red Bullahead of both McLaren of Lando Norris et Oscar Piastri. As for the two French pilots ofAlpine, Esteban Ocon et Pierre Gasly finished in 9th and 10th place respectively. They therefore finish in the points for this Japanese Grand Prixbut on arrival, there were some tensions with Pierre Gasly. Indeed, while he was going to finish this race in 9th, the Frenchman saw Alpine ask him to let it pass Esteban Ocon. A choice that the main person concerned does not understand.
F1: Verstappen smashes Mercedes again https://t.co/ShZqMk15Q7 pic.twitter.com/2BMet17wtM

— le10sport (@le10sport) September 21, 2023
"I don't understand the decision to change the places"
At the microphone of Canal+ after this Japanese GP, Pierre Gasly returned to the strategy ofAlpine. The Frenchman then blurted out: " It was a race where we both finished in the points. There are positives and negatives. For the team, going 9th and 10th or 10th and 9th is the same thing. I don't understand the decision to change the places, knowing that it was never discussed before the race. We had said that if they decided to do the undercut with Esteban to help him during his race, we would exchange positions at the end, but on the last lap, I was asked to change, which had no effect. never been the case since I started in front ».
"We will discuss it internally"
« I had done better qualifying, I was in front and I had more pace at the end with fresher tires. I don't really understand the need. But we finished 9th and 10th and that's three more points for the team. The rest, we will discuss it internally », then concluded Pierre Gasly.