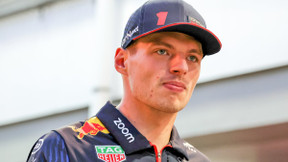 It's been a long time since Red Bull had a qualifying session like the one for this Singapore Grand Prix. Neither Max Verstappen nor Sergio Pérez managed to qualify for Q3 and they will start from 11th and 13th position respectively this Sunday. This is the first time since 2018 that neither of the two drivers from the Austrian team has managed to get through Q2.
« It was really, really hard. » Max Verstappen didn't really enjoy the qualifying session Singapore Grand Prix. We have never seen the double reigning world champion in such difficulty since the start of the season, he who remains on 10 consecutive victories. Max Verstappenlike his teammate Sergio Perezfailed to make it to Q3 in Singapore and he will start from 11th position on the starting grid this Sunday during the race, for which he is not very optimistic.
F1: Against Ferrari, Verstappen is condemned to the feat https://t.co/1JOkNl6V0s pic.twitter.com/Ds6WjObhTr

— le10sport (@le10sport) September 17, 2023
"A terrible experience"
« I don't think there's much we can do. Here it will surely be a stop if nothing crazy happens. To overtake you have to be much faster, and I don't think we are. It's a terrible experience ", added Max Verstappen after qualifying. This season, only once did the Dutchman fail to reach Q3, during Saudi Arabian Grand Prix, but due to a mechanical problem. Starting 15th, he still managed to finish on the second step of the podium, behind Sergio Perez.
A first since 2018 for Red Bull
It has been a very long time since Red Bull had not experienced such a qualifying session, with any of its drivers in Q3. In fact, we have to go back to 2018 when the Russian Grand Prix to find the trace of a similar performance. The young Max Verstappenwho then had only four Formula 1 victories, and his teammate at the time Daniel Ricciardo had been eliminated in Q2 and had also received a penalty for changing the engine block. Starting 18th and 19th respectively, Daniel Ricciardo et Max Verstappen had finished the race in fifth and sixth positions.