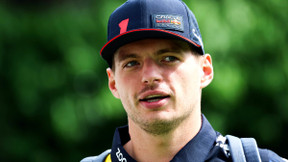 Dominant since the start of the season, Red Bull let a victory escape it this Sunday. Carlos Sainz Jr took his first victory of the season, while Max Verstappen finished fifth. Second in Singapore, Lando Norris believes that it is not a good thing for F1 if the best team dominates each race.
This week-end, Red Bull showed a sudden drop in power. The Austrian team and Max Verstappen seemed powerless against the pace of McLaren and of Ferrari. It is moreover Carlos Sainz Jr who imposed himself on Singapore this Sunday, putting an end to the double world champion's streak of ten consecutive victories. Lando Norris (2nd) also validated the success of his former teammate, explaining that it was not a good thing for the F1 if the best team always dominated.
F1: Disaster for Verstappen, Red Bull comes out of silence https://t.co/Ev6KYEJe1X pic.twitter.com/qhUTSdpqvI

— le10sport (@le10sport) September 17, 2023
"I would have already won two races"
« If Red Bull wasn't there, I would have already won two races! So yes, I think there have always been big battles. I wouldn't say it's just us, I don't think Aston are far behind and they were, at the start of the season, very close, but they have dropped off in performance. AlphaTauri was very fast this weekend, but they failed to put it all together when they needed to » first confided the pilot of McLaren in comments reported by NextGen-Auto.
"If we take away Red Bull today…"
« It's not a good thing if the better team always seems to dominate and take away some of the spectacle. A few years ago, if we took away Mercedes, if we took away Red Bull today… the battles for the rest of the positions would have been incredible: many different winners in each race or in each season » then indicated Lando Norrisvisibly satisfied with his result and that of Red Bull this week-end.