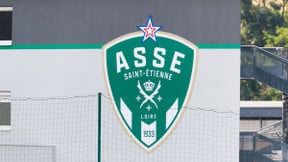 Trained at ASSE, Mahdi Camara packed his bags last summer. Loaned then permanently transferred, the midfielder is now with Brest. A new stage in the career of the former Greens player. Camara will therefore not have lasted forever in Ligue 2 following the relegation of ASSE. A departure which the main person concerned also returned to.
At the end of the 2021-2022 season, the AXIS experienced real disillusionment. Indeed, the Greens failed to prevent the disaster and this relegation to Ligue 2. Obviously, this had many big repercussions, starting with the departures of several players. Trained atASSE, Mahdi Camara notably packed his bags. The midfielder then joined Brestfirst as part of a loan which has since transformed into a definitive transfer.
The ASSE coach breaks the silence and spills the beans about his future https://t.co/T3cPnZqMEY pic.twitter.com/ZcZYEFLqYP

— le10sport (@le10sport) October 20, 2023
"It was not an obligation for me to leave"
During an interview given to Square Posts, Mahdi Camara let go regarding his departure from theASSE. Today at Bresthe then confided: " Was it my desire to leave my training club? It's complicated because Sainté is my favorite club. I spent so many years there. Afterwards, I had this opportunity with Brest and I went there but it was not an easy decision to make. I really wanted to go to Sainté but I told myself that for my career, it was surely the best solution. Playing in L2 with Sainté was possible for me. But there was the Brest offer. I liked the speeches from the leaders, especially the sports director Greg Lorenzi. But it wasn't an obligation for me to leave » .
"Batlles gave me the choice"
Mahdi Camara then added: " Was I able to chat with Laurent Batlles? Yes, the coach and I know each other well since he had me in the youth teams. I have a very good relationship with him. We had a private discussion that I keep to myself, but basically he left me the choice. It's true that I didn't start with a very good memory since it was just after the 6-0 at home against Le Havre. The period was delicate for the club and for me too. Looking back, I am disappointed with this ending but I try to keep the good memories, because I had great years in Sainté ».