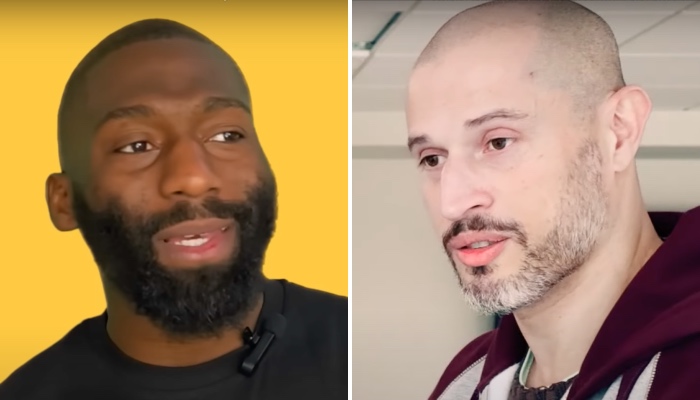 @MrDoumced (DR) / @karatebushido (DR)
Par Pierre-Andréa Fraile | Sports journalist
A divisive character, Cédric Doumbé does not only have admirers in the French MMA world. He also maintains a certain rivalry with GregMMA, whom he was happy to tease following the latter's recent bad buzz.
By heavily promoting his first PFL fight and owning up to his words in the cage, he has undoubtedly brought new members to his fanbase. Cédric Doumbé also silenced observers who were skeptical of him thanks to his quick victory against Jordan Zébo. On the other hand, I'm not sure that he changed the minds of those who had previously disliked him.
Cédric Doumbé's new dig for GregMMA
A key figure in the French MMA landscape, GregMMA is not one of Doumbé's biggest fans. He reiterated this again during a recent interview with a big lost ball addressed to "The Best". The rest of the time, he hosts the YouTube channel Bushido Karate and recently hosted the talented boxer Bakary Samaké there. And suffice to say that he did not appreciate their muscular sparring:
A very uncomfortable moment occurred during the meeting between Greg MMA and boxing prodigy Bakary Samaké. ????pic.twitter.com/1kVJ1SRnx3

— ARENA (@MMArena_) October 26, 2023
Accustomed to carrying out training fights with French-speaking combat sports stars, GregMMA nevertheless took back Samaké for the excessive intensity he allegedly used. A funny sequence which earned the forty-year-old strong criticism as well as a little bad buzz on the networks. Doumced, for his part, jumped at the opportunity to send a viral offer to his counterpart:
Can I try yeah? ???? ????

— Cedric Doumbe (@CedricDoumbe) October 26, 2023
In all likelihood, the former kickboxer would see himself taking part in one of Bouchelaghem's videos and also sparring against him. And based on the emojis in his message, his opponent could also be seriously sweating. It remains to be seen whether this proposal will be accepted, which could allow the two men to finally settle their scores.
Manhandled by Bakary Samaké, GregMMA was largely guilty of a discomfort which did not escape Cédric Doumbé. The ball is now in the veteran's court, whose possible video with The Best would certainly be a hit.