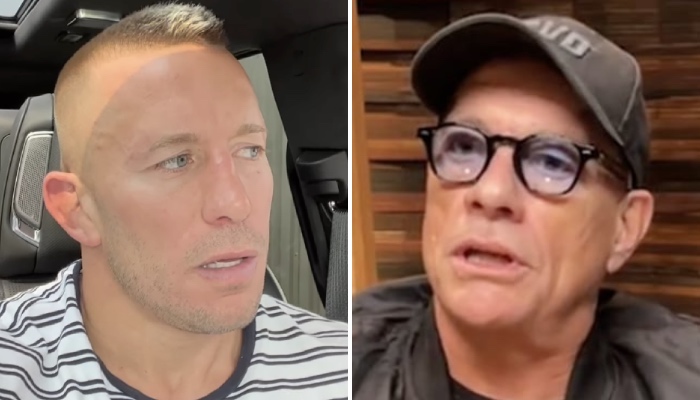 Having become famous thanks to his mastery of martial arts, Jean-Claude Van Damme has since then closely followed the growth of the UFC. He has even already had the opportunity to speak about one of the legends of the federation, namely Georges St-Pierre.
Before establishing himself as a Hollywood star and one of the most iconic figures in action cinema, he first became known as a karateka. Immersed in the world of martial arts from the age of 10, Jean-Claude Van Damme subsequently tried kickboxing, taekwondo and muay-thai. Enough to make him a legitimate example for the greatest MMA fighters like Georges Saint-Pierre:
Jean-Claude Van Damme shows his support for Georges St-Pierre #UFC154 #MMA #MMAMexico pic.twitter.com/QaIkl3uJ

— SoloMMA (@Solo_MMA) November 15, 2012
Jean-Claude Van Damme honest on Georges St-Pierre
A relatively young discipline, MMA has therefore never been practiced strictly speaking by JCVD. This did not prevent him from following its democratization, in which Saint-Pierre fully participated. In 2012, while the latter was in the welterweight category of the UFC, the famous Belgian actor was also invited to discuss his case at the microphone of the Canadian media RDS and showed himself bluntly:
We know each other and we spend a little time together so I can show him different kicks, things that are a little unusual for him. Georges is very strong, he has good physical condition and very powerful legs, but if he could strike in a different way, it would be a new weapon for him and a surprise for his opponents. It's still good after 4, 5, 6 years of reign.
Rave about the Quebec fighter, Van Damme volunteered to offer him new assets to use in the UFC… and even accompany him for one of his fights:
Saint-Pierre knows very well how to adapt to the fighter he faces. He is very fast and explosive on the ground. He has the butt of a gorilla and the thighs of a sprinter, so he starts with a lot of explosiveness. He's a very hard-working boy. (…)
Maybe one day there will be a fight between Saint-Pierre and (Anderson) Silva, with me in the Saint-Pierre clan and Steven Seagal in the Silva clan. In any case, I think I can bring him something. It's almost certain. Being here with him gives me a second youth, health, confidence. Because if he accepts something from me, it's good. So it's impeccable camaraderie.
Both French-speaking, Georges Saint-Pierre and Jean-Claude Van Damme collaborated during the Canadian fighter's heyday in the UFC. A new witness to the success which constantly accompanies its Belgian counterpart!