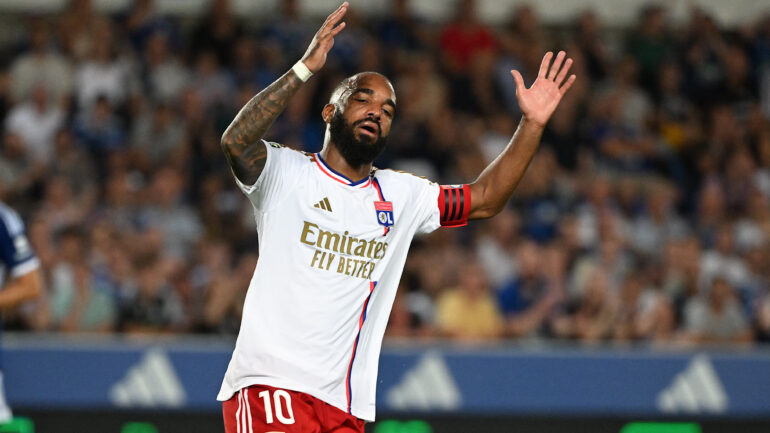 Alexandre Lacazette during Strasbourg – OL (Photo by PATRICK HERTZOG / AFP)
Alexandre Lacazette saw his suspended match suspension skipped. However, the card must be registered with the disciplinary committee on Wednesday, the captain will miss Reims – OL and not Brest – OL.
The effect of the cardboard will ultimately not be immediate. Author of an anti-playing foul on Sunday against Le Havre, Alexandre Lacazette had been sanctioned with a yellow card in the 5th minute by Mr. Bastien. After missing two matches due to suspension, the OL captain could not have started the match in a worse way.
As explain on our site on Monday, this yellow has the consequence of seeing the reprieve included in his first sanction be lifted and therefore of missing a third match at the start of the season. However, although this suspension match is already registered in the "locker" of Lacazettethe sanction will not be immediate like a red card.
Three matches missed out of seven
Indeed, despite the absence of a trace in the LFP texts, the yellow card inflicted by Benoit Bastien must be registered before the disciplinary committee. As the club confirmed to us, the latter meeting on Wednesday, the captain of theOL will be able to play a second match in a row.
Saturday (9 p.m.), Lacazette will be on the lawn of Francis Le Blé for Brest – OL for the premiere of Fabio Grosso. The commission's sanctions are valid from one week to the next, so it is for travel to Reims on October 1 (1 p.m.) that the second top scorer in the club's history will be missing.