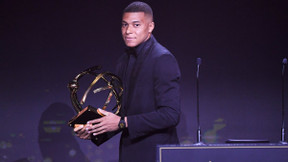 The year 2024 will be marked by two important events for the national selections: the Euro which will take place from June 14 to July 14 in Germany, but also the Olympic Games which will be held from July 26 to August 11 in Paris. While on the French side, several stars like Kylian Mbappé or Antoine Griezmann wish to participate in the Olympics, Philippe Diallo sent a message to French clubs on this subject. Explanations.
100 years later, the Olympic Games are back Paris. The City of Light is already preparing to host this global event, for an edition eagerly awaited by all the French people. At the level of The french team of Olympic football, many changes have occurred in recent months, with the appointment of Thierry Henry as the new coach of the Bleuets, and responsible for leading the France Olympic. The former legendary striker should be able to count on the presence of Kylian Mbappé (PSG), who dreams of taking part in these Olympic Games.
EXCLUDED – Rothen: "The new PSG, for now I say bravo" https://t.co/lK7Vx0TCpI pic.twitter.com/t4othPnNG8

— le10sport (@le10sport) September 30, 2023
Kylian Mbappé and Antoine Griezmann want to participate in the Olympics
But as a reminder, Thierry Henry will only be able to count on three players over the age of 23 in its squad. For now, Kylian Mbappé et Antoine Griezmann are the two main candidates for participation in the Olympics. Asked by West France on the importance of this footballing event, the president of the FFF Philippe Diallo wishes consideration from Ligue 1 clubs for these Olympic Games.
"We need to provide guarantees to the clubs"
"I think that the leaders of French clubs share this desire to take on a historic challenge. There is a work of conviction, we have started it. We must provide guarantees to clubs that the players who come to the selection will do so in optimal conditions. And for the rest, I want to believe that in July 2024, we will field a great French team which has the capacity to reach the highest step of the podium"declares the president of the FFF in comments relayed by RMC.