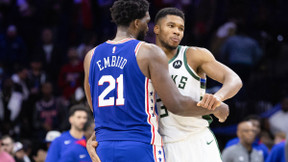 While the NBA season has not yet started, rumors already exist regarding some upcoming trades next summer. One franchise in particular is concerned and it should welcome, according to The Ringer CEO Bill Simmons, either Giannis Antetokounmpo, Joël Embiid, or Donovan Mitchell – totally different profiles.
Clearly, it's not necessarily good to be a superstar in the East at the moment. We obviously think first of all Joel Embiid et Giannis Antetokounmpo, who each experienced major disappointment in the playoffs in 2022-23. The summer was not easy for the two interiors, who even found themselves involved in rumors of departure, the Cameroonian also having to deal with the controversy James Harden. For his part, the Greek clearly conceded that he was thinking of living a new adventure far from Milwaukee if the Bucks followed a second consecutive bad season.
Tony Parker sets his expectations for Wembanyama's NBA debut https://t.co/Ry503kikT8 pic.twitter.com/Qv5aCHeuvF

— le10sport (@le10sport) September 15, 2023
The Knicks are already on the lookout
It is in this sense that Bill Simons mentioned a resounding trade. Indeed, in a recent episode of his eponymous podcast, the boss of The Ringer made a major prediction about the New York Knicks: "They'll get one of those three guys, I guarantee it." Giannis, Embiid or Donovan Mitchell will be part of this team in a year. » said the 53-year-old man. As a reminder, Mitchell was closely linked to Knicks last summer before being transferred to Cleveland Cavaliersand the fact remains that he is a New York native with a well-known fondness for the region.
The Knicks often think too big
Then, the Knicks have already been named at the end of August as a team supposed to be of interest Antetokounmpoaccording to information from Marc Stein. In addition, certain key figures of Knicks also already maintain close relationships with Embiid. This same Stein had recently declared that the leaders of the New York franchise, Leon Rose et William Wesley, were both present at the reigning MVP's wedding. But for now, this is just speculation. Zion Williamson, Kevin Durant or Kyrie Irving : THE Knicks have been cited in signing rumors for a lot of superstars in the past, without anything being done. So be patient!