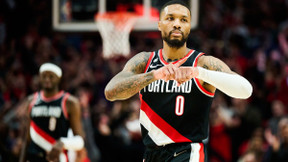 Damian Lillard finally got his wish: leaving Portland. The 33-year-old leader joins Giannis Antetokounmpo's Milwaukee Bucks after campaigning for a long time to end up at the Miami Heat. Ultimately, it's the Wisconsin franchise that gets the jackpot. This, in a three-team trade also involving the Phoenix Suns according to ESPN and The Athletic. The end of an era in Oregon.
This is the big news this Wednesday evening in NBA. THE Milwaukee Bucks would have acquired the seven-time All-Star Portland Trail Blazers, Damian Lillardas part of a three-team deal with the Phoenix Suns. In this agreement, Jrue Holiday, Deandre Ayton et Toumani Camara will join the Blazersas well as the unprotected first-round pick of Bucks in 2029 and unprotected "swaps" in 2028 and 2030. Suns recover as for them Jusuf Nurkic, Grayson Allen, Nassir Little et Keon Johnson. Note that the Blazers will immediately try to find a new base for Jrue Holiday.
NBA: Jordan, LeBron… Tony Parker sets the record straight about Wembanyama https://t.co/qAVGn0DDo2 pic.twitter.com/gWzC1aZeIw

— le10sport (@le10sport) September 27, 2023
A mixed end to the adventure
As a reminder, Lillard asked to be traded on the second day of 2023 free agency after 11 years of loyal service to Portland, with whom he tried to build a title-contending team. Dame signed a two-year maximum contract extension in the summer of 2022 and will be paid $216.2 million over the next four seasons, including $63.2 million for the 2026-27 campaign. Last season, Lillard averaged a career-high 32.2 points per game during a resurgent season after injuries hampered him for two years in which he missed 77 games, double the number of games which he missed during the first 10 seasons of his career.
Forever a Blazer!
Eventually Lillard will have led his long-time franchise eight times to the playoffs, qualifying for the Western Conference finals during the 2018-19 season. However, the Blazers suffered mostly first round eliminations and were never able to reach the top of the league despite having the best player in franchise history. This Wednesday, Lillard leaves Portland as Oregon's all-time leading scorer (19,376 points) – surpassing Clyde Drexler in 2022 – and franchise leader in 3-pointers made, free throws made and points per game average.