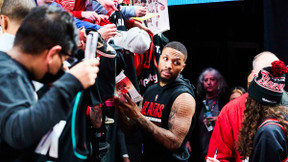 Since Team USA finished the FIBA ​​Basketball World Cup 2023 without a single medal, it appears that America's veteran superstars have made the decision to bring the nation back to the top by assembling a legendary team. Included: LeBron James, Kevin Durant, Stephen Curry… and Damian Lillard? During one of his recent media appearances, the Blazers leader spoke on the subject.
It is not easy to imagine next summer even though we do not know what tomorrow will bring. As such, Damian Lillard logically focuses above all on the destiny that awaits him in the NBA. After having made his request to leave at the start of the offseason, the leader of the Blazers still expects his frankness to honor him. For now impossible to say if Dame will be traded au Miami Heat between now and training camp which starts in two weeks.
Damian Lillard names his favorite NBA player https://t.co/WbiLXOFNZg pic.twitter.com/vsWEhX4uHS

— le10sport (@le10sport) September 21, 2023
LeBron James, boss of Team USA in Paris?
At the same time, Lillard did not wish to announce its participation in the next Olympic Games which are taking place in Paris. However, at the end of a disappointing World Cup from Team USA, a list of 12 superstars supposedly interested in the competition was revealed, in which the name of the 33-year-old appears. But when discussing this alleged interest in the podcast BACKONFIGGthe latter preferred to retreat: " I don't have the luxury of being able to just say I'm going to go for sure. I heard Bron was in charge of building the team. Personally, I don't know anything about it. I get along well with Bron. But hey, there's a whole process to create such a team, so we'll see. I don't know. I think the only ones who can say they will be there are Bron, Steph and KD. They are the only ones who can be sure that they will be there if they are up for it. »
Lillard has revenge to take
While he doesn't deny wanting to represent the United States next summer, Dame indicates on the other hand that he has no certainty regarding his participation in the Olympics, he who lived through the last edition half-heartedly, injured: " The first time I played in the Olympics, I had a serious abdominal injury. I would like to do it just to make it a healthy one because I was injured. I ended up having surgery right after," Lillard added. But just to have a healthy one, be able to play with all of them, be able to step out of my role in the NBA and just be able to catch and shoot, go up and down, have fun. That would be cool. I really do not know. I have children. It takes time to do all this. » In 2020, Lillard had averaged 11.2 points per game over 6 games, while making 38.3% of his shots from the field and 34.8% from long distance.