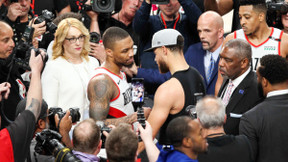 For weeks, Damian Lillard has been clear: he wants to leave the Portland Trail Blazers. After 11 seasons spent in Oregon, the 33-year-old point guard wants to give himself a chance to one day win an NBA ring. And it is at the Miami Heat that Dame sees herself continuing her career. No other franchise interests him and certainly not Stephen Curry's Golden State Warriors, whose recent history is already full.
There is no doubt as to the intentions of Damian Lillard. The leader wants at all costs to find Jimmy Butler et Bam Adebayo in Florida, although he cannot say it publicly, in which case he would receive an XXL fine from the NBA. One thing is certain, he will not join the Warriors. Lillard has been very clear on this subject, this is not and has never been his intentions. The goal is to win an NBA title, of course, but with a franchise that makes him the master of the game. However, in Golden State, Stephen Curry exist.
NBA: Wembanyama reveals the reason for his success https://t.co/nqsnAfxO4U pic.twitter.com/jI7HB99zgZ

— le10sport (@le10sport) September 20, 2023
Lillard doesn't want to go home
For the first time in a long time, Damian Lillard came out of silence for the show Come And Talk 2 Me. The 33-year-old discussed many topics, and took the opportunity to rule out collaboration with the Warriors : « As far as Golden State goes, I respect what they've done over the last 8 or 9 years and I'm obviously from that city. It's at my house. But I can't be part of it. They won four championships… » With four titles and six finals in the last decade, that leaves little room for feeling special.
Curry already takes up a lot of space
Although he was born near San Francisco, in Oakland precisely, Lillard doesn't see himself joining a team that has already won everything. Furthermore, he refuses to imagine walking on the flowerbeds of Stephen Curry : « Regarding what I want to do, I could say 'oh I'm joining the home team'. But no. There is a guy who plays my position and is behind LeBron in the ranking of the best player of this era. It does not mean anything. I would never do something like that. I'd rather lose every year. » he concluded.