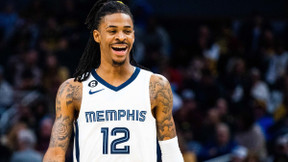 While the Memphis Grizzlies will already have to do without Ja Morant for the first 25 games of the 2023-24 NBA season, another bad news fell this Sunday. Franchise pivot Steven Adams will not play all year because he must undergo surgery on the posterior cruciate ligament in his right knee. A big blow to the heads of the leaders who hope to fight for the title at the end of the season.
The center of the Memphis Grizzlies, Steven Adamswill undergo surgery on his right knee and will miss the entire season NBA 2023-24. The Grizzlies made the announcement on Sunday, just three days before the start of their season. Adams initially injured his right knee in January and missed the second half of last season, as well as the playoffs. This is therefore a relapse. " Steven Adams to undergo knee surgery on right posterior cruciate ligament after non-surgical rehabilitation failed to resolve current knee instability ", the Grizzlies said in a statement. " Adams is expected to make a full recovery before next season. »
After LeBron James, who are the highest paid players in the NBA world? https://t.co/Li1sIzcRIk pic.twitter.com/HBMcXU8T02

— le10sport (@le10sport) October 20, 2023
A big loss
At 30 years old, Steven Adams is one of the best rebounders in the NBA. He averaged 8.6 points and 11.5 rebounds per game in 42 games played last season. Adams was acquired by Memphis in a trade with New Orleans before the 2021-22 season. Last October, he signed a two-year contract extension with the Grizzlies, worth $25.2 million through the 2024-25 season.
Memphis loses a second frame
Adams had played two preparatory matches before being stopped this Sunday. " He looked great. He did everything. Every drill, every scrimmage and he was dominant down low. It looks good to me. » declared his teammate Luke Kennard au Commercial Appeal earlier this month. The news of the injuryAdams is another blow for the Grizzlies, who will already be without the star point guard I Morant for the first 25 games of the season while serving a suspension for showing himself with an imitation firearm on social media, twice.