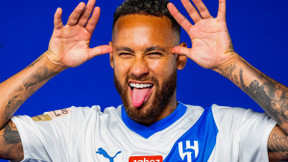 Now far from PSG, Neymar, however, continues to make people talk about him. Indeed, while his first tenure with Al-Hilal was marked by a bloodbath, the Brazilian also found himself at the heart of an extra-sporting scandal since he was seen in a nightclub in Barcelona. .. with two women.
This summer, Neymar left the PSG in order to engage with Al-Hilal who paid €90M for his transfer. But for his first start with the Saudi club, the Brazilian has already made waves since he lost control in the middle of the match, pushing his opponent before shooting him with the ball.
View this post on Instagram

A post shared by Leo Dias (@leodias)
Neymar seen with two women in a nightclub
But that's not all. The Brazilian journalist Leo Dias also reveals a video in which we see Neymar in a nightclub Barcelona in the company of two women to whom he seems very close. The video was apparently taken on Wednesday evening, when number 10 ofAl-Hilal returned from Brazil and his club was playing on Friday evening. But above all, this raises questions again about the fidelity of Neymar while his companion Bruna Biancardi is pregnant.
This is not the first time that Neymar's loyalty has been questioned
At least June, Neymar had in fact admitted his infidelity by posting an apology message on Instagram. « Justify the unjustifiable. I didn't need to do what I did, but I need you in our life ", he wrote, affirming his " error ". A mistake from which he obviously hasn't learned…