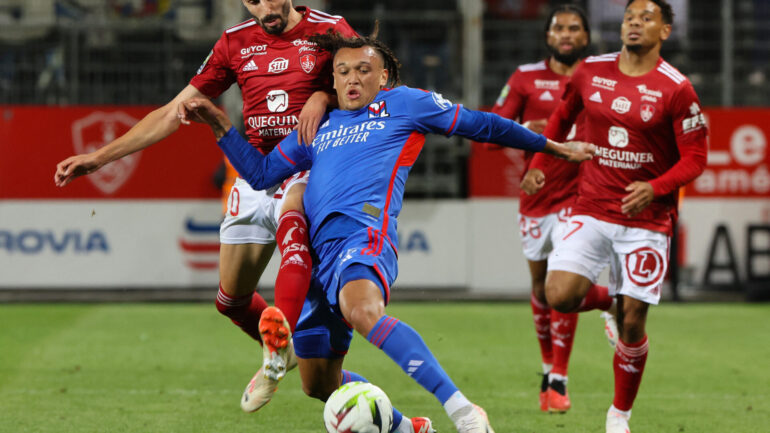 Diego Moreira during Brest – OL (Photo by Fred TANNEAU / AFP)
By doing without Rayan Cherki, Fabio Grosso chose to put two real wingers in his 4-3-3. Neither Nuamah nor Moreira managed to bring any percussion to this Brest – OL (1-0). Find the best and the flop from the Olympique-et-Lyonnais editorial team.
Flop: timid wingers
This was the first big decision of Fabio's mandate Grosso. In his desire to see OL play in a 4-3-3 and use the lanes, the Italian coach had chosen to do without Rayan Cherki at kickoff. Confidence had been given to Diego Moreira to liven up the left corridor and to Ernest Nuamah on the other side. It was clearly not a winning choice. For his first start at the high level, the Portuguese was not spoiled. He took a lot of hits, but also struggled to make the difference, something he had managed against Le Havre when the organizations were tired. In Brest, everyone was 100% and Moreira was unable to provoke, well muzzled and perhaps still too frail.
In front of the Portuguese in the first period, Grosso tried to guide him, but the desired scenario before the meeting was clearly not the one observed. And Diego Moreira was not alone since Ernest Nuamah was also far from the face shown during his first two matches. Warned after only 10 minutes, the Ghanaian was far from being technically clean, losing a lot of balls on his passes and throw-ins. There was a little improvement, but in the desire to play on the wings, OL did not succeed in building to highlight their wingers and they did not show the right skills. The double change from the 50th was the icing on the cake.
Top : Anthony Lopes
Since his return, he hadn't necessarily had to stand out. He had taken four pawns against the PSG before not necessarily being solicited by Le Havre last week. In Finistère, it was a completely different story with a lot of requests for Anthony Lopes. When the goalkeeper is so highlighted, it's never a good sign and it was proof that OL more than suffered against Brest. Mounié's goal was only the consequence of this Brest domination. Still masked after his facial injury, the Lyon goalkeeper must have had a hot hand very quickly.
From the 4th minute exactly, by quickly lying down on a low strike from Satriano. The tone was set for the Portuguese international who saw the ball sail past his area on more than one occasion. By flying away in the 23rd minute, he prevented Brest from opening the score by slamming home a heavy shot with his fingertips. Le Douaron on his bar. A rescue that Lopes believed was essential just like his intervention with his foot in front Lees-Melou (56th). But by dint of suffering, OL and their goalkeeper inevitably ended up giving in.