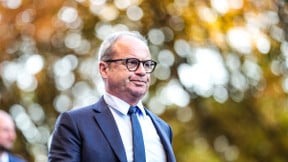 This summer, PSG was particularly active in the transfer window. The capital club has recruited a lot, particularly in attack. But it is not an offensive recruit who is making the best impression at the moment. In midfield, Manuel Ugarte impresses everyone. The Uruguayan is perhaps the player that Paris was missing in this sector. In any case, his former coaches and even his opponents are rave about him.
A few years ago now, an Uruguayan brought joy to PSG during several seasons, it is aboutEdinson Cavani. The striker was even the top scorer in Paris not long ago, before Kylian Mbappé finally breaks his record. Since then, the former Neapolitan is now playing Boca Juniorsbut one of his compatriots who arrived this summer in Paris achieves very good performances.
Ugarte cost PSG €60m
This summer, the PSG decided to go all out on another Uruguayan, Manuel Ugarte. The former player Sporting Lisbon arrived at Paris against a check for €60M. At first, the amount shocked some observers who said the midfielder didn't cost that much, but opinions have drastically changed about the 22-year-old. He is already a leader within the Parisian squad, and he shines with his defensive aspect and his number of balls recovered.
New tensions for Neymar after PSG? https://t.co/jZO9iMlXqn pic.twitter.com/KanZdiQAPp

— le10sport (@le10sport) September 21, 2023
"Manuel has always been a very intelligent player"
In today's edition, The Team decided to take an interest in Manuel Ugarte, by going to question those who trained or confronted him. This is the case of Zaydou Youssoufwho played against him twice last season. "I didn't feel a particularly tough player in contact but a constant tenacity. In fact you have the feeling of passing him and he comes back, with very effective body play. We immediately sense that he doesn't like losing the duel. You might pass it once, but the second time it makes you understand that you won't get it. » At the heart of the midfield, Ugarte shines with his knowledge of placement, and his ease in recovering balls. This is not surprising Marcelo Brolione of his former trainers, who remembers an already very intelligent player. "Manuel has always been a very intelligent player, he has a great ability to read what is going to happen in the game. He is a player who has played in several positions during his training, notably in the attacking position. This gives him a lot of information to know what to look for in certain situations and today, being a more positional midfielder, he is able to anticipate the actions of opponents. » What is certain is that Manuel Ugarte will have a little more opportunity to enter the hearts of the supporters of the PSG this Sunday evening, on the occasion of Classic against theABOUT.