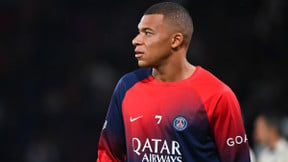 Paris Saint-Germain lost heavily to Newcastle (4-1) on Wednesday evening on the second day of the group stage of the Champions League. Mute, Kylian Mbappé still made the son of one of the executioners of PSG happy. Explanations.
Kylian Mbappé is currently not in the shape of his life at PSG. Hit in an ankle on September 24 againstABOUT (4-0), Mbappé does not seem to be in full possession of his means since.
"He is crazy about football and Mbappé is his favorite player"
And his performance against Newcastle Wednesday, he who could not prevent the heavy defeat of the PSG on the lawn of St-James Park (4-1), will not allow us to assert the contrary. However, its rating is still as impressive in England as evidenced by the testimony of in Kiera Trippierdefender of Magpies. "My son Jacob? He is crazy about football and (Kylian) Mbappé is his favorite player. My son asked for Mbappé's jersey, I told him I would try, but my concentration was focused on the match."
View this post on Instagram

A post shared by CBS Sports Golazo (@cbssportsgolazo)
Mbappé offers his jersey to Kieran Trippier's son
However, the son of in Kiera Trippier has indeed achieved its goals. Accompanied by his father, right side of Newcastle, Jacob Trippier presented himself to the cameras of CBS Sports wearing the star's jersey PSG. Despite the rout, Mbappé was able to fill one of his fans with happiness.