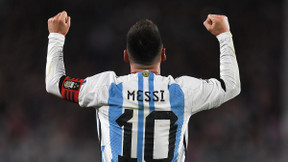 Having made the decision to turn the page on PSG when he could have extended it for at least one season, Lionel Messi also snubbed FC Barcelona to live his American dream at Inter Miami. However, the Argentinian could have continued at PSG if the timing of the announcement of Luis Enrique's arrival had been earlier…
Lionel Messi is no longer a player PSG since this summer. While he could have extended his contract by activating the clause agreed with the Parisian club upon his signing in 2021, Messi decided otherwise. And the Paris Saint–Germain did not flinch, as it seemed that the relationship between the two parties was particularly damaged.
Luis Enrique could have changed the Messi soap opera
Eventually, Lionel Messi went towards theInter Miami where he found Gerardo Martino, Sergio Busquets as well as Jordi Alba. The former player FC Barcelona is therefore not in unknown land, although his return to Barça fell into the water. Nevertheless, Lionel Messi could have stayed at PSG pour Luis Enrique.
Messi, Neymar, Mbappé… He tried everything at PSG! https://t.co/F5B69nhhyZ pic.twitter.com/F6Oq3B1GuM

— le10sport (@le10sport) September 19, 2023
"If Luis Enrique had arrived a month and a half earlier…"
On the occasion of the broadcast Morning Footy of CBS Sports, Guillem Balague dropped a little bomb on the soap opera Messi. According to information from the Spanish journalist who is also a biographer of Lionel Messi, Luis Enrique could have changed everything. "If Luis Enrique had arrived a month and a half earlier, Lionel Messi would perhaps still be at PSG."