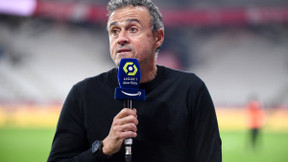 PSG certainly left Reims with a victory last Saturday (3-0), but certainly not in style. Jostled by the Rémois, the Parisians can thank Gialuigi Donnarumma and his multiple saves. For Daniel Riolo, the use of Kylian Mbappé and the tactical choices of Luis Enrique must be questioned.
For some time, Daniel Riolo persists on the waves of RMC to express his incomprehension regarding the stubbornness of Luis Enrique with the tactical pattern of 4-2-4. The editorialist of RMC added a layer Monday evening during the broadcast of theAfter Foot. According to him, this tactic would serve both Kylian Mbappé and the rest of the team.
"Mbappé's exploitation is not good"
"I still don't understand this tactic. He insists, he absolutely wants to put this team in 4-2-4. I think there is a problem with this diagram. I think Mbappé's exploitation is not good. We are not using this player to the maximum of what can be done. The center forward does not exist and that is why he will absolutely try to sell us his false 9 now. He tried it with Lee and I think he's waiting for Asensio to return to put him in that role. The two in midfield run and run but don't contribute much. In the end, who really shines on the team? I don't feel like the players are really shining. Warren Zaire-Emery? Yes and again in the last two matches, not necessarily. He suffered in Milan and Reims." told Daniel Riolo initially before discussing the plans for Luis Enrique not distinguished by the editorialist.
Luis Enrique changed everything for Mbappé, he swings at PSG https://t.co/lgZ0l87eaG pic.twitter.com/iiipH13niH

— le10sport (@le10sport) November 14, 2023
"I no longer really understand what Luis Enrique wants to do"
"We like him, he's more often good than bad, but I lost the PSG collective a little along the way. I no longer really understand what Luis Enrique wants to do. Everyone has started to destroy Ugarte on his last outings, but when you have two in the middle who are constantly taking waves in each other's mouths, well that's a problem. I think he suffers from that too". a conclu Daniel Riolo. Luis Enriquethrough its tactical choices recently, would therefore represent the evils of PSG.