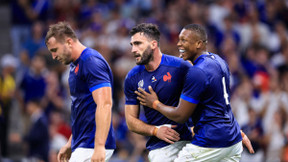 Partner of the French Rugby Federation, Parions Sport has published a rather offbeat video with some of the stars of the French XV involved in this World Cup. This is the case of third row and vice-captain Charles Ollivon, who told a rather surprising evening anecdote.
First captain of Fabien Galthié in 2019, Charles Ollivon has gone through ups and downs over the past four years. Faced with several injuries, he even thought at one point of ending his career, but he is back stronger than ever, notably with a double in the big victory of the XV of France on the Namibia (96-0).
EXCLUDED – XV of France: Dupont "is one of the best, but…" https://t.co/Wuvo46HCpf pic.twitter.com/h6QHRTQzHV

— le10sport (@le10sport) September 21, 2023
Without Dupont, Ollivon becomes captain
The player of RCT has taken on a completely different role in recent hours, with the injury ofAntoine Dupont. Pending the return of the scrum half, which has not yet been officially announced, Charles Ollivon indeed became the captain of the XV of France. In any case, he was present alongside Fabien Galthié during the post-match press conference on September 21.
"It was on the way back from a party, we passed by the fairgrounds…"
Before the start of the World Cup, the French neo-captain told us a rather surprising anecdote about returning from the evening… in a merry-go-round cart! " It was on the way back from a party, we passed by the fairgrounds… but it wasn't me who had the idea! So, they tore away the little carts the children fit in. " told Ollivo, in a video published by Bet Sports. « We returned, except that the next day, they made us understand that we had to bring her back. So we brought her back the next morning ».