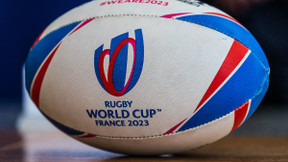 A new week of competition begins this Wednesday, September 20 in France. Members of Group A, that of the XV of France, Italy and Uruguay face each other this Wednesday evening at the Allianz Riviera in Nice (5:45 p.m.). This is the only meeting of the day.
The Rugby World Cup regains its rights! Three days later Fiji's historic success against Australiaor the new victory of England facing Japanthese are the members of the group A who will continue their little journey. The meeting of the day opposes in fact Italy has l'Uruguay.
The XV of France in turmoil, he rants https://t.co/RWfFy85IyS pic.twitter.com/vBF6eYcCNk

— le10sport (@le10sport) September 19, 2023
Italy – Uruguay, only meeting of the day
It's the start of a new day of competition. This Wednesday late afternoon, at 5:45 p.m., Italy will face l'Uruguay. Obviously, the provision of Teros facing XV of France the past week is on everyone's lips. " We saw the France-Uruguay match and we knew what Uruguay could show. It's a World Cup and every match is an important challenge. The whole group is concentrated and focused on our objectives », confided in particular Marius Goosen. The Italian defense coach is not the only one to have watched the last match of l'Uruguay. « I saw a very aggressive and passionate team, who fought furiously for every ball and who were physically competitive. It will be a difficult match, as all matches are, especially in the World Cup, but against this Uruguay we will need a good performance from everyone to win. They are a very dangerous team. We saw on Thursday night what Uruguay did against France, they fight for every ball and make you physically difficult, and against a team like that the break becomes very important. As we have always done, we must focus on ourselves and play our game in order to give our best. If we do this we will get the result we want ", reports on his side Sebastian Negri. Italywho remains on a victory against the Namibia (52-8), will therefore have to be wary of this unpredictable Uruguayan team which arrives more confident than ever.
L'Uruguay wants to thwart the plans of Italy who must certainly already be thinking about his next two meetings, facing the New Zealand and facing the XV of France. After the meeting with the Bluesthe selector of Teros had promised to reissue this kind of performance. " We prepared for this World Cup, and we came to make history. We were able to show today that we are on the right track. The key element is the confidence of this group, who believe in themselves. We worked well on our attack and defense systems. I think that Uruguay, in this meeting, expressed their potential. If we can now face more big teams, with our level, we will continue to progress. This match will be decisive. When we saw the order of matches in the draw, our objective was to play on an equal footing with France. We showed we could do it. We want to reproduce it. We learned not to make the same mistakes against Italy », assured Esteban Meneses. Italy is therefore warned.
An Australian on the whistle in Nice
Italy et l'Uruguay will face each other for the first time in their history in world Cup. The Australian Angus Gardnerwho had refereed the clash between South Africa et Scotland in Marseille, will be on the whistle. L'Allianz Riviera of Nicea city near the Italian border, will host this meeting which will be broadcast on M6.
Four changes on the Italian side, two on the Uruguayan side
Italy realized that she will not be able to rotate her squad as much for this match. A hard blow for the Blue Team which will continue consecutively with the New Zealand then the XV of France over the next two weeks. Kieran Crowley therefore made only four small changes compared to the XV that he had aligned against the Namibia.
The composition of Italy: 15. Capuozzo ; 14. Pani, 13. Brex, 12. P. Garbisi, 11. Ioane; 10. Allan, 9. A. Garbisi ; 7. Lamaro (cap.), 8. L. Cannone, 6. Negri; 5. Ruzza, 4. N. Cannone; 3. Riccioni, 2. Nicotera, 1. Fischetti.
The Italian substitutes: 16. Bigi, 17. Zani, 18. Ceccarelli, 19. Lamb, 20. Zuliani, 21. Pettinelli, 22. Fusco, 23. Odogwu
Turnover is even less permitted for Esteban Meneses. If he wants his team to create a sensation, the coach of l'Uruguay will have to rely on the players who shone against the XV of France last Thursday. This is why he only made two changes.
The composition of Uruguay: 15. Amaya; 14. Mieres, 13. Inciarte, 12. Vilaseca (cap), 11. Freitas; 10. Etcheverry, 9. Arata; 7. Civetta, 8. Diana, 6. Ardao; 5. Leindekar, 4. Aliaga; 3. Peculo, 2. Kessler, 1. Sanguinetti.
Uruguayan substitutes: 16. Pujadas, 17. Gattas, 18. Arbelo, 19. Dotti, 20. Deus, 21. Ormachea, 22. Berchesi. 23.Bass