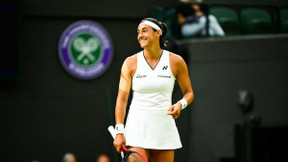 It's better, much better for Caroline Garcia at the moment! The French number 1, 10th in the world, had another great run in the WTA 1000 as she reached the quarter-finals in Beijing for her last major meeting of the year. The Lyonnaise, in difficulty this year, will not defend her title at the Masters but she has scored some great victories recently which could help her start 2024 with confidence.
In distress this summer since it has suffered a series of defeats, Caroline Garcia has still not managed to beat a top 20 player in 2023. It's a statistic that doesn't really work in her favor even if recently, she has still won quite a bit. HAS Beijinga tournament that she won in 2017, she even rather shone even if she ended up losing against Every Swiatekworld number 2.
Smile found
After his semi-final at Guadalajara, Caroline Garcia did well during the Asian tour and she reassured herself in Beijing by getting 3 victories, including that against the Ukrainian Kalinina28th in the world. "Really happy with the win and the way I played, the mindset and the attitude. This is probably one of the best matches I've played this year. So it's never too late. Better late than never, I would say" she declared after this success on Thursday.
Tennis: Sinner new number 4, logic regains its rights https://t.co/y1XPGE03I7 pic.twitter.com/gMjDoK5Qkl

— le10sport (@le10sport) October 5, 2023
A close feat
In these quarter-finals Beijing, all the posters are very beautiful. And facing Caroline Garciathere was quite an obstacle in the person ofEvery Swiatek. The Lyonnaise put up a magnificent fight for more than 2h30 where she even came very close to winning. Indeed, after a very tight first set where she saved a set point, she managed to break the break when the Pole was serving to win the second set before narrowly losing in a new tie-break. Finally, she cracked a bit in the third set but the statistics speak for themselves: the two players made almost twice as many winning shots as unforced errors.
Return to the top in 2024?
Currently in 19th place Race, Caroline Garcia will lose his points Masters but without going down too much in the rankings. The Frenchwoman still has quite a schedule to finish the year in style but above all, she can congratulate herself on this return to form since she has regained the confidence to start 2024 with a bang.