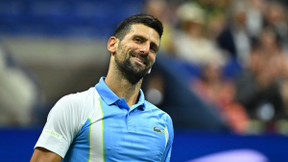 The year 2023 is surely that of consecration for Novak Djokovic. By equaling and then surpassing Rafael Nadal in the number of Grand Slam titles, the Serbian has undoubtedly closed the debate around the GOAT. Now he knows he is the strongest and sometimes he doesn't hesitate to show it. Not only by his enormous tennis level but also by his attitude which has changed a little, like during the semi-final of the US Open against Ben Shelton…
Oui, Novak Djokovic often received criticism for his temperament, with many believing that he was trying too hard to be loved as much as Roger Federer et Rafael Nadal. But the Serb seems to have understood the lesson and he even indulges in some crazy things which are sometimes surprising but which brighten up tennis a little. On the other hand, it is not at all to everyone's taste if we are to believe the reaction of some…
A "stolen" celebration
In addition to having made an impression by reaching his first semi-final in Grand Slam at 20 years, Ben Shelton has also made the celebration of the telephone fashionable. Indeed, during his victory in the quarter-finals, he pretended to be on the phone and to hang up, a nod to his Florida origins and in particular to Grant Holloway, world champion in the 110m hurdles, whom he knows very well. But when he bowed to Novak Djokovicthe Serbian celebrated his victory by… imitating his celebration, a gesture which caused a lot of reaction on social networks. "I love Ben's celebration. I found it very original and I copied it. I stole his celebration…" he declared at a press conference with a big smile that said a lot.
Tennis: He misses Alcaraz, he pays him an incredible tribute https://t.co/T4ZqjFX7rq pic.twitter.com/CiAuZ6Day8

— le10sport (@le10sport) September 15, 2023
An inappropriate gesture?
Even if other players have already adopted this celebration since, even on the circuit Challengerthe gesture of Novak Djokovic did not pass for some, starting with Bryan Sheltonthe father of the young American and former 55th in the world. "He wants to be loved so much, Novak… He wanted to make fun of my son at the end. He didn't celebrate like that just to copy Ben. It was to make fun of him. And it's a shame that it comes from such a great champion" he judged. One thing is certain, he is not the only one to have found this gesture inappropriate, even if a little trash talk doesn't hurt!
Shelton not touched
Close to winning the third set during this famous semi-final, Ben Shelton glared at his opponent during the handshake. However, at a press conference, he had a more calm reaction. "I think if you win the game, you deserve to do what you want. When I was a child, I was always taught that imitation is the sincerest form of flattery, so that's all I have to say about that (smile)" he blurted. For his part, Novak Djokovic has clearly decided to embrace his bad boy side.