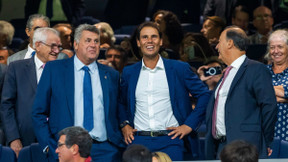 Absent from the ATP circuit since his elimination in the second round of the Australian Open, injured, Rafael Nadal plans to return in 2024 for his last year on the circuit. The Spaniard, not spared from physical problems during his career, is having an almost blank season for the first time in his career and he will have great difficulty returning to full form in a few months. Interviewed on Spanish television on Monday evening, Nadal gave more details on his objectives.
After Roger Federer in 2022, another legend of Big 3 should end up putting away the rackets in 2024. Rafael Nadal has been in great difficulty since his injury at the start of the year. While the news surrounding his form has been rather reassuring of late, it was the Spaniard himself who provided more information by speaking on Spanish television.
Persistent pain
A professional tennis player almost never lives without feeling some pain. For Rafael Nadalinjuries have accumulated over the course of his career and the one he suffered on his psoas at the start of the year is difficult to treat. "Can I live without pain? No, but with controlled pain. Today I am fine. I have a bad foot, there are times when I have difficulty going down the stairs at home. When that happens, it's harder to be happy." concedes a Spaniard tired of injuries.
Tennis: Djokovic stronger than anything, he confesses! https://t.co/tq52pY4pOY pic.twitter.com/HOVDuEPJXi

— le10sport (@le10sport) September 18, 2023
Very far from returning
At present, Rafael Nadal don't think about a return to the highest level. In any case, that's what he said Monday evening and these few words send shivers down your spine. "I would like to be competitive again, but the hope is not to come back and win Roland Garros or the Australian Open. Let people not be mistaken. At this moment, all this is very far away. I'm not saying it's impossible, because everything moves very quickly in sport." entrusts the man with 14 trophies Porte d'Auteuil.
A return really possible?
In his career, Rafael Nadal never backed down from the slightest obstacle. But his body has sometimes forced him to throw in the towel earlier than expected and it seems that this is the main factor in his decision-making. "I believe he will never come back if he does not see a chance for him to win titles" summed up very well Boris Becker recently during an interview with Eurosport Germany.