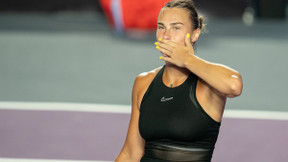 World number 1 following her magnificent run at the US Open where she was defeated in the final by Coco Gauff, Aryna Sabalenka approached the Masters with a fairly comfortable mattress over Iga Swiatek in the rankings. The Belarusian, also present in the final last year in this tournament bringing together the 8 best of the season, started with a bang. But she keeps this fiasco linked to the construction of the stadium hosting the competition in her throat.
Impressive in terms of power, Aryna Sabalenka made short work of the Greek Maria Sakkari for his first match Cancun WTA Masters. The world number 1, frustrated at not having been able to train earlier like the others on the center court, did not fail to return to this episode, logically charging the WTA.
Champion debut
This year, all participants of the Masters WTA share one thing in common: they have never won the event. Aryna Sabalenka is perhaps the most experienced, she who had bowed to Caroline Garcia has Fort Worth. The new number 1 left no chance for Maria Sakkarilast minute replacement for Karolina Muchovainjured and forfeited. "I'm happy to have been able to stay focused tonight, to have overcome all these conditions and to have played well" she confided after her victory.
Tennis: Return of Djokovic to the circuit, he announces the color https://t.co/jqol23wom1 pic.twitter.com/uIdWLtH1GV

— le10sport (@le10sport) October 30, 2023
A still astonishing correction
In a tournament bringing together the very best players in the world, it is surprising to see such a loose match. Aryna Sabalenkshe even had three opportunities to complete the affair without losing a single game, a walk in the park which says a lot about the intentions of the world number 1. Indeed, we have to go back to the 2011 edition to see a player leave only a small game to her opponent during a match of the Masters. As a reminder, Sabalenka is a little more than 600 points ahead of Every Swiatek currently and with this first victory, she is opening the way a little further towards retaining her crown.
Anger in Cancun
This year WTA announced very late that the 2023 edition of the Masters would stand at Cancun, in Mexico. The financial difficulties of the world's leading women's sports organization do not leave many opportunities and when they present themselves, they must be seized at the last moment. Indeed, the construction of the stadium to host the competition was completed the day before the start of the tournament and Aryna Sabalenka wanted to come back to it. "I must say that I am very disappointed with the WTA and the experience we are having with these WTA Finals. As a player, I felt like the WTA disrespected me. This is not the level of organization that we expect for a tournament like this" she exclaims.