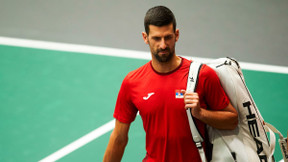 Winner of three of the four Grand Slam tournaments this year and back to world number one, Novak Djokovic has largely accomplished his objectives for the season. The Serbian, present in the Davis Cup this week to qualify his country, will then observe a period of rest and he should be absent in the coming weeks during the Asian tour. He played a lot more compared to last year and doesn't really want to push to stay number 1 at the end of the year.
Five days after his incredible title at theUS Open, Novak Djokovic will already play in competition again! Indeed, he kept his promise and will be present alongside the Serbian team for the Davis Cup in the same group as that of Spain in which Carlos Alcaraz ended up forfeiting. The Serb admitted at a press conference that everything that was going to happen between now and the end of the season was a "bonus" for him.
Finishing number 1, not a big goal
By winning theUS Open, Novak Djokovic took a considerable lead over Carlos Alcaraz (more than 3000 points). The Djoker therefore began his 390th week as boss of the circuit, a record that he already held. For him, there is no need to hurt himself for this goal: he is already satisfied at this level. "I don't know yet if I will play in Shanghai, but I will make a decision very soon, and I will tell you about it when the time is right. For me, finishing the season as world number 1 would be like the bonus of a great season, but it's not the priority. It's been a perfect year for me, and now I'm competing for my country. Anything that comes from now on will be a bonus" did he declare.
Tennis: The new French crack receives an incredible invitation https://t.co/jVeNx67hpM pic.twitter.com/j9ng4UmjWW

— le10sport (@le10sport) September 15, 2023
Release coming?
These last years, Novak Djokovic sometimes let a few matches slip away when there wasn't really anything at stake. Present in Davis Cuphe shouldn't be so unplayable to face Spain this Friday, at least that's what we hope David Ferrer, the captain of the Spanish team. In the past, the Serb has still worked for his country and he will inevitably have fangs. "I want to explain to them the tactics to beat him, I will try to pass on to them the things that worked for me at the time, but it depends on a lot of other factors. It's Novak Djokovic, 24 Grand Slam tournaments, it doesn't just depend on you. Let's hope he's tired and we'll try." he blurted.
Alcaraz can benefit from it
If it's not official yet, Novak Djokovic is not expected to travel to Asia this year and is expected to return to competition at Bercy end of October. Last year, the Serb played a lot at the end of the season as he was unable to travel to the United States during the summer and he will let points slip away. Carlos Alcarazwho missed a good part of this period, could therefore take advantage of it to come back to the Serbian.