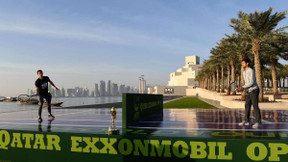 In recent years, tennis has seen many exhibitions emerge on the international scene but some are still a little confusing. The best players in the world are called to compete for a large sum of money, sometimes at the risk of their physique. But in the calendar, certain competitions are a bit difficult and there is debate. The last example, the Laver Cup obviously, which has again caused a lot of ink to flow.
Exhibitions in the world of tennis are not new. In fact, they have always existed since even in its beginnings, the tennis served as a spectacle for a certain promotion across the globe. In recent decades, competitions have each been organized for a very specific purpose, which poses a problem regarding the definition of the word "exhibition".
Lots of exhibitions
Even if certain competitions are not considered as an exhibition, in principle, the Making Cup for example is clearly an exhibition between the best players in the world. Nowadays, there is always a small exhibition before each tournament of the Grand Slam to help players get into the swing of things. Likewise, the Hopman Cup, back in the calendar this year, can be considered as such. At the end of the season, there are also many meetings, in South America in 2022 for example between Nadal et Ruud or in Saudi Arabia in December.
Tennis: Olympic objective for Arthur Fils, a program to study carefully https://t.co/6W9g0orFLS pic.twitter.com/NJNrJwovAQ

— le10sport (@le10sport) September 29, 2023
A calendar problem?
As we saw even among the players last week, the Making Cup still struggles to find a true identity. Some consider it a real competition that must be won at all costs, others really take it as an exhibition. The problem with this competition is that it has no sporting stake in tennis apart from winning it and it also takes up space in the calendar. For many, exhibitions should be played at the end of the season when there is no tournament. The calendar would be much more visible if things were like this.
A lost meaning
Today, tennis exhibitions no longer really look like exhibitions as the term would have it. It is above all a match between two players who play almost the entire match at their best level, sometimes in a country where tennis is not necessarily well represented. There have been some slightly more fun concepts in the past but those have faded a bit. Ultimately, having a lot of exhibitions is not a danger for tennis as long as they remain at the level of exhibitions and do not encroach too much on the professional circuit. If one of the primary goals is to promote tennis, we should also think about doing it in a place where the population is not necessarily used to seeing tennis.