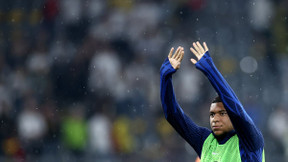 Kylian Mbappé could live out his last months as a PSG player. His contract expires next June and as it stands, an extension of the lease is not sufficiently advanced. Journalist Fabrizio Romano announced the more than likely departure of Mbappé to Real Madrid next summer. Eduardo Camavinga expressed his surprise.
In between Kylian Mbappé and the PSG, the situation was very hot during the summer transfer window. Between the player's desire not to activate the clause to extend his contract by one season until 2025 and that of the president of the Paris Saint–Germain to see him stay longer, the tone rose. So that Nasser Al–Khelaïfi threatened Mbappé to sell it if its situation remained unchanged.
"Either Real Madrid takes Mbappé on its terms or Mbappé can stay at PSG"
Finally, Kylian Mbappé did not extend his contract and still remained PSG. The Real Madrid is preparing to welcome him next summer, as a free agent or nothing else depending Fabrizio Romano ? " What was the problem ? Real Madrid did not want to take him this summer. Real Madrid, on principle after what happened last summer, and in my opinion, that has always been their position, that is to say "You have to come to us, but in the end you renewals at PSG. From now on in principle, either Real Madrid takes Mbappé on its terms, free without paying any transfer compensation to PSG or Mbappé can stay at PSG".
PSG completes a transfer, Mbappé will enjoy it https://t.co/QV01FMYcxz pic.twitter.com/Sov0pFsH4X

— le10sport (@le10sport) September 19, 2023
Romano announces the arrival of Mbappé at Real Madrid
Still on the occasion of his intervention on BoboTVthe Italian journalist teased the arrival of Kylian Mbappé au Real Madrid at the end of the season."But from what I hear, I think that next summer we are heading towards this scenario. Whether via a release clause for zero as will most likely happen. I think that in the end his destination will be Real Madrid."
"I have the feeling that you know a lot more than me"
What does the Real Madrid ? Visiting a press conference Tuesday afternoon, Eduardo Camavinga was invited to comment on the possible arrival of his captain in French team. Suffice it to say that the news was surprising given the comments made by Camavinga. "Kylian Mbappé at Real Madrid? I have the feeling that you know a lot more than me (laughs)."