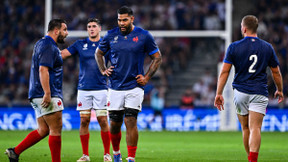 Thursday, the XV of France played its second World Cup match against Uruguay. Fabien Galthié's men were able to count on the unwavering support of the supporters present in the Pierre Mauroy stadium in Lille. The numerous scrums got the better of the Lille pitch, to the great dismay of a LOSC player.
A week after igniting the Stade de France by dropping the All Blacksthe XV of France disposed of l'Uruguay not without difficulty Thursday at Lille. Penalized several times, the players of Fabien Galthié completed 22 scrums. " It's fortunate to have won this match despite that. Discipline, I thought we were good, that we had done a lot of work on that but today we were undisciplined. It's really a shame. I think we were a little relaxed considering the opponent this evening », deplored Cameron Woki after the meeting. And these 22 scrums did not spare the stadium pitch Pierre Mauroy.
After the XV of France, their revenge is terrible https://t.co/a9sZnF9pYl pic.twitter.com/SEGIsMYayc

— le10sport (@le10sport) September 16, 2023
The Blues return to the pitch at the Pierre Mauroy stadium
Football clubs rarely appreciate having their rugby cousins ​​use their stadium. But world Cup Obviously, 9 enclosures normally welcoming 22 players and a round ball have replaced the usual goals to make way for the huge posts. Six clubs Ligue 1 are concerned, among which we find loon, l'OL, l'OGC Nicethe FC Nantes, Toulouse as well as the LOSCthe main victim of the passage of XV of France. The men of Fabien Galthié turned the pitch over several times and this did not escape the players of Paulo Fonseca.
"I hope they will do a good job, the gardeners"
Lucas Chevalier preferred to be ironic. The doorman of LOSC was hilarious when discussing the state of the lawn Pierre Mauroy Stadium after the passage of XV of France. « I saw the state of our land. I don't know what will happen in the next matches, but I hope they do a good job, the gardeners ", he declared at a press conference. Lille will return to their home ground on Wednesday for the Conference League in front of l'Olimpija Ljubljana. Until then, we dare to hope that the lawn will be in better condition.