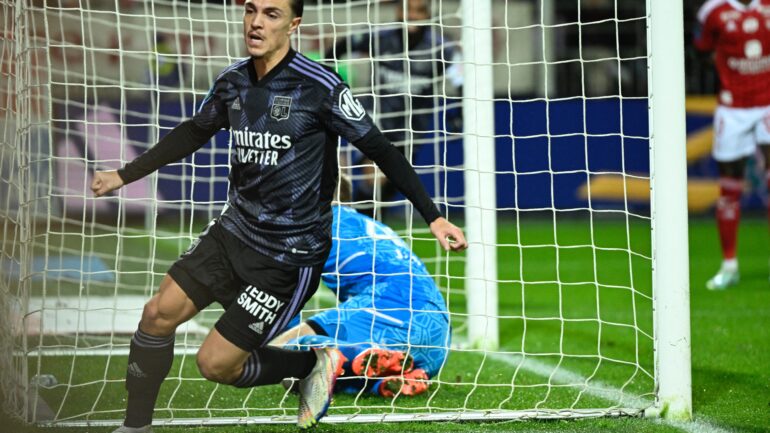 Maxence Caqueret celebrates his goal during Brest – OL (Photo by DAMIEN MEYER / AFP)
Maxence Caqueret returned to the crisis that OL is currently going through. In this situation, the midfielder wants the group to take responsibility.
Like the rest of the team, except Anthony Lopes, Maxence He would lie down missed his match in Brest on Saturday (1-0). The former captain of the France Espoirs team is generally missing the start of the 2023-2024 financial year, just like OL, today 17th and penultimate in Ligue 1.
After six days, the results are catastrophic, and this necessarily worries us for the future. "We already missed out last year, so I was expecting to attack this season in a different way, with a new dynamic, but that's not the case at the moment. Statistics are scary", he admitted in an interview granted has Canal +.
"Grosso came with a very simple speech"
During this exchange, the 23-year-old footballer mainly empowered the group. "For me, the concern is that the players are not doing enough. At this stage, it's up to us to have that connection to try to mobilize everyone, he said. Fabio Grosso came with a very simple, conquering speech, saying that by defending well together, we would attack more easily, and I agree with that." He and his teammates must now apply this on the field, which has not been the case until now, largely justifying the ranking of Olympique Lyonnais.