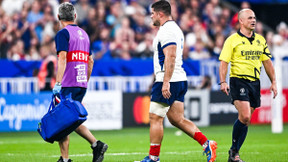 The injuries keep coming in this Rugby World Cup. The French XV is one of the most affected teams, notably with the loss of Julien Marchand during the first match against the All Blacks. And definitely, it is not good to be a hooker during this World Cup because two other players playing in this position have withdrawn from the rest of the competition.
A kind of curse hits her Rugby World Cup head on and it concerns the tailgaters. Halfway through their road to the quarter-finals, the XV of France, South Africa et Scotland have lost their starting hooker. A rare enough fact to be highlighted.
XV of France: The ordeal is over for him, his entourage announces heavy things https://t.co/OIQh1LNqyR pic.twitter.com/IqHZ1Rn9RZ

— le10sport (@le10sport) September 17, 2023
Marchand injured against the All Blacks
The first victim of this curse is French and her name is Julien Marchand. Victim of a muscle injury to the left thigh during the encounter with the New Zealandthe captain of Fabien Galthié missing XV of France. Unlike its other two counterparts, its world Cup is not finished since he should make his return against Italy. « Julien took the exams again. Everything is progressing very well, it is in the hands of the medical and performance staff. They got us back a lot of injured players back on their feet. The Italy match is a goal for him. If he has the capacity, he will be on the field, otherwise we will wait another week », assured Laurent Labit Sunday.
Marx gets injured in training
The second victim to be deplored is South African. Malcolm Marx was in fact injured in training with the Springboks. The hooker of the reigning world champions is out for the rest of the World. « It was a freak accident, his legs got caught in those of another player. It was during a contact session, it was a team race and it's a shame. I am not sure of the specifics of the injury, but it is a serious injury as he is no longer available for the World Cup ", told Jacques Nienaber. Handre Pollard was called to replace him.
Cherry gets injured… falling down the stairs!
Finally, the last hooker hit by the curse is called David Cherry and the cause of his injury may make you smile. There Scottish Federation reports that he suffered a concussion after falling from the stairs of the hotel where the XV du Chardon, all during the day off. Really bad luck this time. " I am extremely disappointed to leave the team. I loved my time at the (preparation) camp this summer and I played my first World Cup match on Sunday against South Africa. I wish the team all the best for the rest of the competition ", did he declare. Stuart McInally was called to replace him. Being a hooker represents a big risk during this World…