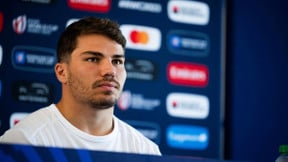 While the French XV has been trembling since Thursday evening and the injury exit of Antoine Dupont, some good news has finally come. Through a press release, the FFR announces that the captain of the Blues has undergone successful surgery and will be able to return to the France group in the coming days. His return to competition would even be hoped for the quarter-final.
The historic victory of XV of France against Namibia on Thursday evening (96-0) was clearly overshadowed by the injury exit ofAntoine Dupont just after returning from the locker room. It must be said that the captain of the Blues took examinations after the match which revealed " a maxillozygomatic fracture » as revealed by FFR through a press release. The worst was considered for Antoine Dupont whose participation in the remainder of the World Cup has been called into question. Concern has continued to grow in recent hours. But hope is reborn.
EXCLUDED – XV of France: Dupont "does not make the differences he did in the past" https://t.co/aWfSqnaMGP pic.twitter.com/hQjLc5WJUb

— le10sport (@le10sport) September 21, 2023
Dupont will be able to "return to the French team"
Indeed, through a new press release, the FFR ensures thatAntoine Dupont was successfully operated: Following his injury contracted during the France-Namibia match, Antoine Dupont underwent surgery on September 22 around 11 p.m. at the Purpan University Hospital in Toulouse. In a few days, he will be able to return to the French team in a process of progressive sporting resumption and under medical supervision. ". Therefore, the World Cup is not over for the captain of the XV of France.
A return envisaged for the quarter-finals?
The question now is when it will be available again? According to information from THE TEAM, Antoine Dupont, who had a plate placed to consolidate his cheekbone, will have to observe a full week of rest before starting to resume activity. No risks will be taken against Italy on October 6, a match that the men of Fabien Galthié should be able to win without their captain. On the other hand, there is real hope for a return for the quarter-final against Ireland or South Africa. And there, the presence of Antoine Dupont will clearly not be too much to achieve the feat.