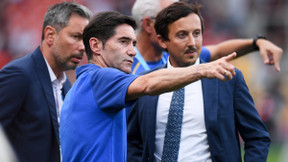 OM is going through its first period of turbulence of the season. After the draw against Toulouse this Sunday, the supporters showed their annoyance at the Vélodrome. This Monday, a tense meeting was held between fans and management, where the Marseille Ultras demanded the head of Pablo Longoria. Marcelino would also be thinking of leaving. The verdict would also be imminent in this case.
A real thunderclap is taking shape at theABOUT. Despite a third place in Ligue 1, the game proposed by Marcelino not suitable for Marseille supporters. The latter did not hide their annoyance this Sunday after the draw against Toulouse (0-0). The players were whistled during their victory lap, and the Ultras didn't stop there.
It's confirmed, the OM coach has decided for his future https://t.co/GBMtW8BpQi pic.twitter.com/Qx7Ee6LA9u

— le10sport (@le10sport) September 19, 2023
It's a crisis at OM!
This Monday, a meeting was organized between the supporters and the management of theABOUT. The atmosphere was reportedly particularly tense, with some calling for the departure of Pablo Longoria. The Marseille president was even threatened with death according to Eurosport. Marcelino, he would wonder about his future. The coach of theABOUT would have also communicated his intentions to leave to his group according to The team.
Longoria and Marcelino will decide
According to information from Sports Zone, Marcelino would be particularly firm and would like to leave theABOUT. Pablo Longoria, for his part, would now be very open to the idea of ​​leaving even though he had decided to stay this Monday. The final decision of the president of theABOUT and the Marseille coach would be imminent! To be continued…