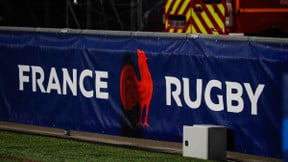 Injured during the preparation of the French XV, Cyril Baille missed the first two matches of the World Cup against New Zealand and Uruguay. But now the Blues front row will make its comeback against Namibia this Thursday. Indeed, the player from Stade Toulousain will start for this meeting. A return from Baille which will do a lot of good for the French XV, especially with a view to seeking the title of world champion.
This Tuesday, Fabien Galthié appeared at a press conference to announce the composition of the XV of France to face the Namibia. After rotating against theUruguaythe coach of the Blues announced the return of stars like Antoine Dupont et Gaël Fickou. But that's not all. THE XV of France also records the valuable feedback of the injured with Jonathan Danty et Cyril Baillethey who will be starting to face the Namibia after missing the New Zealand and theUruguay.
The XV of France in turmoil, he rants https://t.co/RWfFy85IyS pic.twitter.com/vBF6eYcCNk

— le10sport (@le10sport) September 19, 2023
"To be world champions, the Blues need him"
In the first line, Cyril Baille will therefore take its place with the XV of France. A very important return if we are to believe Sylvain Marconnet, former French international. " To be world champions, the Blues need him. He has progressed enormously since his debut with the XV of France. For me too, it has become a world reference. He's the best left pillar on the planet. Beyond his abilities, there is this role he plays within the group. With Antoine Dupont, Julien Marchand, Anthony Jelonch and Grégory Alldritt, they form the backbone of this team. They are like the five fingers of the hand. When one is on the side, it hurts the others. But, when they are together, they are even stronger ", he assured the Parisian about Cyril Baille.
Dupont and the return of Baille
Present at a press conference this Tuesday, Antoine Dupont also spoke of this return of Cyril Baille with the XV of France. He then confided: " There was a lot of disappointment, a lot of doubts. When we knew his nature and duration, and especially the decision of the staff to keep him in the group, he was boosted to return to his best level as quickly as possible. He made the effort for this by working daily ».